Events June 18-20: Native American Dolls, Animal Feedings and "Cujo"
This weekend, learn about Native American dolls, witness animal feedings at the National Zoo and watch canine horror flick "Cujo"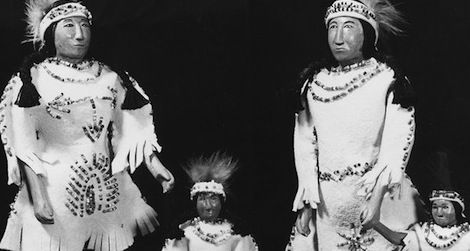 Tuesday, June 18: Get Hands-On with Native American Dolls
Step aside, Raggedy Ann. An exhibit at the American Indian Museum is showcasing 23 colorful and detailed dolls representing the Plains and Plateau tribes and made by Native American artists. Come to the museum's interactive cart and learn about how these dolls were traditionally used as toys and teaching tools. Free. 3 p.m. to 4 p.m. American Indian Museum.
Wednesday, June 19: Lemur Feeding
Feeling hungry? Come warm up your appetite at the lemur feeding at the National Zoo. Lemurs enjoy primarily a light diet of leaves and fruits, which are easily attainable for this tree-living species. Following this event are feeding demonstrations for the zoo's Amazon fish, giant Pacific octopus, sea lions, black-crowned night herons, stingrays and crustaceans. Each feeding lasts approximate 15 to 20 minutes. Free. 10:30 a.m. for the lemur feeding. National Zoo.
Thursday, June 20: "Cujo"
Dog lovers, beware. The film adaptation of Stephen King's K-9 horror novel Cujo, which will be shown at the Hirshhorn Thursday, is enough to make anyone think twice about buying that adorable puppy, or at least letting him run outside at the risk of catching rabies. The film will be shown as part of this year's "Summer Camp: Pup Tense" film series, the theme of which is, you guessed it, canine horrors. Free. 8 p.m. Hirshhorn Museum Ring Auditorium.
Also, check out our Visitors Guide App. Get the most out of your trip to Washington, D.C. and the National Mall with this selection of custom-built tours, based on your available time and passions. From the editors of Smithsonian magazine, the app is packed with handy navigational tools, maps, museum floor plans and museum information including 'Greatest Hits' for each Smithsonian museum.
For a complete listing of Smithsonian events and exhibitions visit the goSmithsonian Visitors Guide. Additional reporting by Michelle Strange.