Events June 12-14: Temple of Invention Tour, A Healthy Future in Renewable Energy, and Painting with Maya-Mam
This week, take a tour of the Old Patent Office Building, learn about renewable energy sources, and paint with Mayan artist Ubaldo Sánchez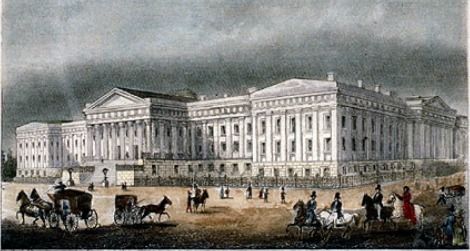 Tuesday, June 12 Temple of Invention Tour
The building that houses the American Art Museum and the National Portrait Gallery once served a very different function, as the Patent Office Building, the nation's "temple to the industrial arts." Built in 1868, the building is one of the country's finest examples of Greek Revival architecture. Discover its rich history on a tour led by curator Charles Robertson, who will also discuss the patent exhibition "Inventing a Better Mousetrap: Patent Models from the Rothschild Collection." Free. 5:30 p.m. to 6:30 p.m. Meet in the F Street Lobby, American Art Museum.
Wednesday, June 13  A Healthy Future in Renewable Energy
How do we balance sustainable energy production with responsible environmental stewardship? In this evening seminar, Philippe Fauchet, director of the University of Rochester's Energy Research Initiative, grapples with one of the biggest challenges facing the world population. Learn about global energy use and the potential of alternative energy sources like solar and wind power. $40 for general admission, $30 for members. 6:45 p.m. to 8:45 p.m. S. Dillon Ripley Center.
Thursday, June 14 Painting with Maya-Mam
Local Mayan artist Ubaldo Sánchez (Maya-Mam) uses this colorful family-friendly painting workshop to explain Mayan culture and art. Sánchez comes from a family of artists from Concepcion Chiquirichapa, Guatemala, whose projects represent the rich, crafts-based art of Guatemala here in the United States. Sánchez's work includes painted pottery, sculpture, silkscreening, and painting. His 2009 painting of Barak Obama, New Dawn, was selected to represent Virginia students in the White House. Free. Repeats daily through June 17 at 10:00 a.m. and 1:00 p.m. American Indian Museum.
For a complete listing of Smithsonian events and exhibitions visit the goSmithsonian Visitors Guide. Additional reporting by Michelle Strange.