Events July 9-11: Verbal Gymnastics, Craft Art and Beer and West African Music and Storytelling
This week, unlock your inner poet, make DIY garden-themed craft art and drink craft beer and sway to the beat of West African music and storytelling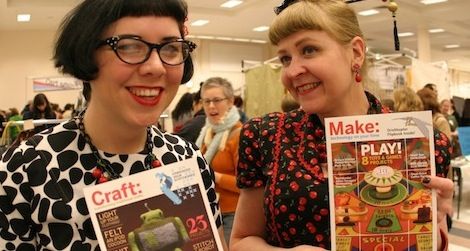 Tuesday, July 9: Verbal Gymnastics
Unlock your inner wordsmith and join D.C. poet and playwright John Johnson in an interactive workshop about poetry and storytelling. Participants and budding poets will reflect on their observations and experiences with community and create original works of poetry. Johnson, who founded an organization that teaches people theater techniques to deal with issues in their communities, will also read some of his own poetry and reveal tips for fostering the creative spirit. People from all communities are welcome, although this particular program will focus on promoting awareness and civic engagement in the communities surrounding the Anacostia River. Free. 10:30 a.m. to 12:30 p.m. Anacostia Community Museum.
Wednesday, July 10: Handi-hour
Who says crafting is only for kids? Come to the Renwick Gallery for an adults-only DIY hour where you can make craft art and drink craft beer. The garden-themed crafting activities at this month's event include decorating terra cotta pots and creating cork plant holders. Tap into your creative side and then unwind with live music and a beverage selected by beer director Greg Engert of the D.C. brewery ChurchKey. Participants must be 21 or older to attend this event. $20 admission at the door, includes two drink tickets, snacks and endless crafts. 5:30 p.m. to 8 p.m. American Art Museum.
Thursday, July 11: Maria Broom and Jali-D
Rock to the beat of the djembe drum and become engrossed in the words of Maria Broom, a storyteller, dancer and actress in HBO's The Wire and The Corner. Broom and drummer/rapper David Foreman, a.k.a. Jali-D, will engage the audience in a music and drumming extravaganza for all ages. The djembe drum, originally from West Africa, is a rope-tuned and skin-covered instrument that is played by beating your bare hands on different spots on the drum. Find your beat and engage in this multicultural performance. Free. 2 p.m. African Art Museum.
Also, check out our Visitors Guide App. Get the most out of your trip to Washington, D.C. and the National Mall with this selection of custom-built tours, based on your available time and passions. From the editors of Smithsonian magazine, the app is packed with handy navigational tools, maps, museum floor plans and museum information including 'Greatest Hits' for each Smithsonian museum.
For a complete listing of Smithsonian events and exhibitions visit the goSmithsonian Visitors Guide. Additional reporting by Michelle Strange.