Events July 27-29: Human Origins, "This is Peru" and a Meeting of Worlds
Celebrate Peru and learn traditional Indian dance this weekend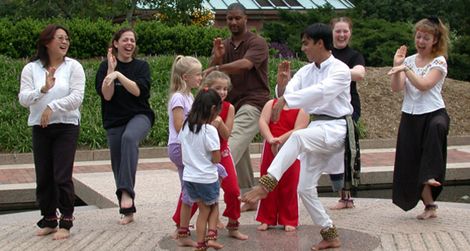 Friday, July 27 Human Origins Today
What does it mean to be human? The Smithsonian is working to answer this question through its Human Origins Program at the Natural History Museum. It's certainly not an easy topic to tackle, but this Friday, join members of the Broader Social Impacts Committee in an informal discussion on the relationship between scientific research and religious perspectives of human evolution. Free. 3:00 p.m. to 4:00 p.m. One Species, Worldwide Theater, Hall of Human Origins, National Museum of Natural History.
Saturday, July 28 Kaypi Perú: This is Peru
Kaypi Perú, which means "This is Peru" in the indigenous Quechua, is a week-long festival celebrating the art, culture, history and contributions of Peru, the Land of the Incas. Highlights of the second annual festival include an exhibition and market of crafts by indigenous Peruvian artisans, as well as folk dances and live music, photo exhibitions, films, Peruvian food and drinks, botanical displays and many other exciting events. Bring the kids for some hands-on workshops that will help them to imagine what life is like for the children of Puno, join in story time and make their own Amazonian pink dolphin. Free. 10 a.m. to 5:30 p.m. through July 30. National Museum of the American Indian.
Sunday, July 29 Kathak: A Meeting of Worlds
The young emperor Akbar was known to dance with the Sufis until he passed out and had to be carried back to the palace. When he married a Hindu Rajput princess, she brought her temple dancers into the palace as well, merging the two devotional dance traditions. The result of this connection was Kathak, one of the eight forms of Indian classical dances, that became wildly popular in the Rajput and Mughal courts. This Sunday, as a part of the ImaginAsia series, dancer Bhim Dahal and his pupil Tasrit Johnson will tell this story through Hindu temple, Sufi and Kathak dance. After the performance, there will be a dance class for children. Free. 2:00 p.m. Sackler Gallery.