Events July 2-4: Discover Genetic Coding, Experience Garifuna Culture and Watch 'March Point'
This week, check out an exhibit on genes, witness a Central American song and dance performance and watch Native American film "March Point"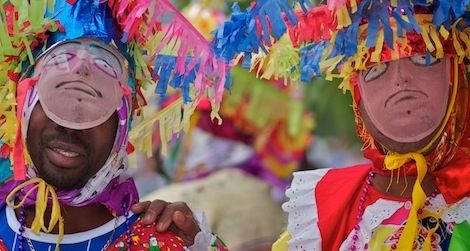 Tuesday, July 2: Genome: Unlocking Life's Code
What makes you you? This question can be answered in a lot of ways, but science tells us there's one foolproof answer — genes. Explore the building blocks of life and celebrate the 60th anniversary of Watson and Crick's discovery of the double-helical structure of DNA and the 10th anniversary of the completion of the Human Genome Project. This exhibit features large media interactives, hands-on activities and personal videos of scientists and patients. It is presented in conjunction with the National Human Genome Research Institute. Free. Natural History Museum.
Wednesday, July 3: Garifuna Music and Dance
Join the beat of the drumming and singing at Folklife Festival concert celebrating the culture of a minority Central American ethnic group known as the Garifuna. Members of the Libaya Baba group, originally from Belize and residents of Los Angeles, will perform traditional songs and dances. Fellow Belizean and Garifuna artist James Lovell will join the music group and perform songs, tell stories and read poetry. Free. 6 p.m. to 7:30 p.m. Voices of the World Stage.
Thursday, July 4: Film Screening — 'March Point'
This film is no gangster movie or rap video. But that's what three Native American teenagers on the Swinomish Reservation thought they were going to make. March Point is a film about the boys, who joined a film program called Native lens by Longhouse Media as an alternative for participating in a mandated drug treatment program. Rather than making an action-packed thriller, they produced a film about two oil refineries on their reservation that were harming the health of the people, the land, the water and the traditional way of life. This coming-of-age flick brings to light a variety of issues about, including environmental health and Native American injustices. Free. 11 a.m. and 3 p.m. NMAI Rasmuson Theater.
Also, check out our Visitors Guide App. Get the most out of your trip to Washington, D.C. and the National Mall with this selection of custom-built tours, based on your available time and passions. From the editors of Smithsonian magazine, the app is packed with handy navigational tools, maps, museum floor plans and museum information including 'Greatest Hits' for each Smithsonian museum.
For a complete listing of Smithsonian events and exhibitions visit the goSmithsonian Visitors Guide. Additional reporting by Michelle Strange.