Events July 17-19: Virtual Caving, Air Force Strings and a Tribute to Thelonius Monk
This week at the Smithsonian: take a virtual tour beneath the earth's surface, see the Air Force Strings perform and honor the genius of Thelonius Monk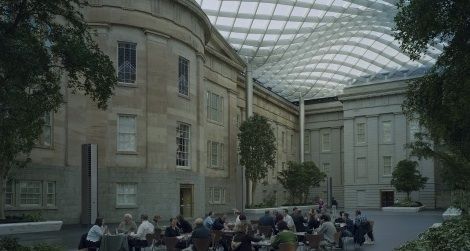 Tuesday, July 17 The Hidden World of Caves
The first cave many of us encounter is in the pages of Mark Twain's The Adventures of Tom Sawyer. We're told; "Within was a small chamber, chilly as an ice-house, and walled by Nature with solid limestone that was dewy with a cold sweat. It was romantic and mysterious to stand here in the deep gloom and look out upon the green valley shining in the sun." National Speleological Society fellow Gregg Clemmer will lead a romantic and educational virtual tour of caves, covering everything from the striking architecture of mineral deposits to the many species living in these dark ecosystems. New technology even allows us to see where no researcher has ever been. 6:45 p.m. to 8:45 p.m. $35 general admission. S. Dillon Ripley Center.
Wednesday, July 18 Air Force Strolling Strings
You've heard of the Sultans of Swing but what about the ambassadors of music? The United States Air Force Strolling Strings ensemble has been performing for the White House and Capitol Hill since 1954. Get the presidential treatment this Wednesday with a midday concert showcasing the Strolling Strings many styles including bluegrass, Classical, Broadway and popular tunes. 12:30 p.m. Free. Wednesdays through August 1. Space Race, Gallery 114, Air and Space Museum.
Thursday, July 19 Take 5!
If music is a language, jazz is its poetry. Lending itself to collaboration and interpretation, jazz continues to provide fertile grounds and entertaining evenings. Join the American Art Museum for Thursday's installment of Take 5! honoring the works of Thelonius Monk. Friends and fans of the legendary artist, Freddie Redd and Butch Warren will perform pieces by or inspired by Monk, including "I Remember Monk." Accompanied by Brad Linde, Brian Settles and Tony Martucci, the quintet compliments the American Art Museum's current exhibition, "African American Art: Harlem Renaissance, Civil Rights Era, and Beyond." Refreshments, board games and a chance to paint for those who register complete the event dedicated to the enduring impact of artists such as Thelonius Monk. 5:00 p.m. to 8:00 p.m. Free. Kogod Courtyard, American Art Museum.
For a complete listing of Smithsonian events and exhibitions visit the goSmithsonian Visitors Guide. Additional reporting by Michelle Strange.