Events July 10-12: Questionable Art, Crafty Mail, and the Battle of Shiloh
This week at the Smithsonian, debate the merits of contemporary art, craft your own stationery, and learn more about the Battle of Shiloh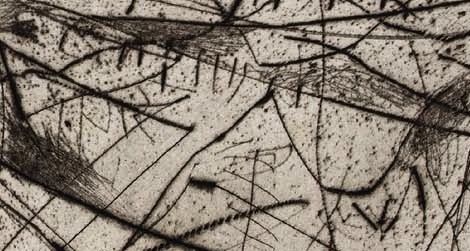 Tuesday, July 10 Is This Art?
"My kid could do that," is a common accusation flung at works of modern and contemporary art. So why isn't the genius of "Billy, age 4″ decorating the white walls of MoMA? Defining art is, at times, a tense debate: what to a critic is groundbreaking is to an audience member inert. To make matters more complicated, artists including Duchamp and Warhol have reveled in the very non-art status of their art. Whether you've already chosen a side or are still fuzzy on the artistic merits of a urinal, the American Art Museum is hosting a facilitated, open discussion to help clear things up. Bring Billy. 6:00 p.m. to 7:00 p.m. Free. American Art Museum, Lincoln Gallery.
Wednesday, July 11 Handi-hour
Though few of us still use snail mail, none can deny that it is far more exciting to receive a handwritten letter than a typed up email. Colorful fonts and closing quotes aside, emails just don't have the aesthetic appeal of the real deal. Revive the dying mail arts and craft to your heart's content while catching up on correspondence with the Postal Museum's handi-hour. Brad Pugh of Practically Einstein provides the music and Churchkey/Birch and Barley provide the beer. 5:30 p.m. to 8:00 p.m. $20 cash-only at the door (entry, two drink tickets, snacks and crafting materials), ages 21 and older. Renwick Gallery.
Thursday, July 12 Jeff Shaara on the Battle of Shiloh
The Civil War sesquicentennial fever is in full swing here at the Smithsonian. As part of a lecture series on the historic event, author Jeff Shaara will discuss the 1862 Battle of Shiloh. After writing 11 bestsellers of historical fiction, Shaara focuses on this battle in his most recent novel, A Blaze of Glory. The Battle of Shiloh went down in history as one of the bloodiest in the Civil War and provided a Union victory in the Western theater. Shaara approaches it from a less conventional perspective, incorporating junior officers and conscripts into the narrative. Our own Smithsonian blog reports that it was after this battle that soldiers reported "glow-in-the-dark wounds." 6:45 p.m. to 8:45 p.m. $40. Museum of Natural History, Baird Auditorium.
For a complete listing of Smithsonian events and exhibitions visit the goSmithsonian Visitors Guide. Additional reporting by Michelle Strange.