Events January 8-10: Get Sketchy, Raise Your Voice and Play Ball
This week, draw your way through the collection, join a chorale, and hear from NBA Commissioner David Stern plus basketball superfan Wolf Blitzer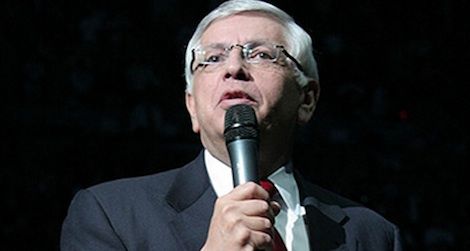 Tuesday, January 8: Sketching at American Art
You bring the pad and pencil and they'll bring the art. With more than 3,300 artworks on display for inspiration, join fellow art enthusiasts for an afternoon of sketching. You'll talk first with museum staff about the role of everything from studied drawings to on-the-fly doodles from artists over the years. Then you're free to wander the museum, turning a renowned institution into your own personal studio. Dare we say it's the sketchiest the American Art Museum has ever been? Free. 2:30 p.m. to 4:30 p.m. American Art Museum.
Wednesday, January 9: Raise Your Voice: The Smithsonian Encore Chorale for Older Adults
When's the last time you belted out your favorite tune? If the answer is, this morning in the shower, then you may be the perfect candidate for the Smithsonian Encore Chorale, the nation's largest and fastest-growing choral program for older adults. This Wednesday marks the start of a 15-session weekly rehearsal schedule courtesy of the Smithsonian Associates, culminating in a public performance. Learn breathing techniques and tone production secrets from Jeanne Kelly, former conductor of the Georgetown University Concert Choir and music director of the U.S. Naval Academy Women's Glee Club. No auditions required, you just have to be 55 years or older and ready to sing. Tickets here. 10:30 a.m. to 12:00 p.m. Ripley Center.
Thursday, January 10: Behind the Scenes with NBA Commissioner David Stern
In David Stern's 30-year reign, we've seen championship teams come and go, from the Pistons to the Bulls and most recently the Miami Heat, and an entire league transformed. Along the way, Stern witnessed his fair share of controversy, from referee gambling to rumors of draft rigging to trade blocking. Now hear from the man himself as he is joined by Michael Lee, the Washington Post's Wizard's beat writer, Mike Wise, the Post's sports columnist, and CNN's Wolf Blitzer, a B-ball superfan. Another great Smithsonian Associates event allows fans to reminisce about the last 30 years of basketball. $20-$25, tickets here. 7:30 p.m. American Indian Museum.
Also check out our specially created Visitors Guide App. Get the most out of your trip to Washington, D.C. and the National Mall with this selection of custom-built tours, based on your available time and passions. From the editors of Smithsonian magazine, the app is also packed with handy navigational tools, maps, museum floor plans and museum information including 'Greatest Hits' for each Smithsonian museum.