Events January 22-24: Persian Tile Lessons, Arts & Craft Beer and MLK Book Signing
This week, learn to be a Persian artist, get crafty in Renwick Gallery and pick up an illustrated copy of Martin Luther King, Jr.'s most famous speech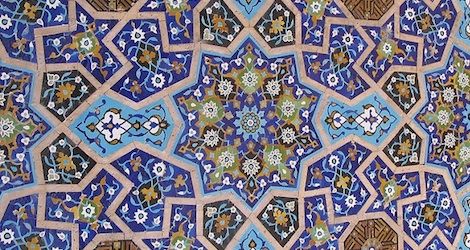 Tuesday, January 22: Persian Tile Art Lessons
Looking for something creative to do after work? Smithsonian Associates launches the Tuesday edition of its 8-week night art lesson series this evening, and you can still reserve a spot in "Handmade Tiles in the Traditional Persian Style." Ceramic tile art adorns public spaces, palaces and places of worship in Iran, and its styles are incorporated into many contemporary Western designs. The class offers a unique glimpse of Persian culture by teaching the technical aspects of tile-making, from carving methods to glazing and installation. No previous art experience required! $336, $290 for members (supplies included). 6:30 p.m. to 9 p.m. on Tuesdays from January 22 to March 12. Ripley Center.
Wednesday, January 23: Handi-hour
If you don't want to commit to an 8-week art course (or even if you do but just can't wait until next week for more art), you can still get creative at Handi-hour, the craftiest happy hour in town. The evening event provides craft supplies and instructions, and plays up art's social side by serving craft beers, featuring live music and organizing a scavenger hunt through Renwick Gallery's permanent collection. "Crafty" prizes promised. $20 cash (includes two beers and art supplies). 5:30 p.m. to 8 p.m. Renwick Gallery.
Thursday, January 24: I Have a Dream book signing
Cap off your Martin Luther King, Jr. Day celebrations this week with I Have a Dream, a children's book that illustrates King's famous speech on the steps on the Lincoln Memorial in 1963. The book's illustrator Kadir Nelson, an award-winning artist, is on site today to sign copies, and to encourage young readers to connect with the speech's perennially important message. The book is available at the museum's store. Free. 2 p.m. to 3:30 p.m. American History Museum.
Also check out our specially created Visitors Guide App. Get the most out of your trip to Washington, D.C. and the National Mall with this selection of custom-built tours, based on your available time and passions. From the editors of Smithsonian magazine, the app is also packed with handy navigational tools, maps, museum floor plans and museum information including 'Greatest Hits' for each Smithsonian museum.
For a complete listing of Smithsonian events and exhibitions visit the goSmithsonian Visitors Guide. Additional reporting by Michelle Strange.