Events January 14-17: Higgs Boson, Up "Close" with President Obama, Modern Origami and Shiny Pots
This week, learn why the Higgs Boson particle matters, see a huge portrait of President Obama, discover modern origami and stand in DC's most opulent room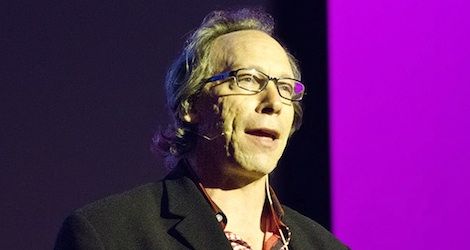 Monday, January 14: The Higgs Boson Particle: Why It Matters
The Higgs Boson is a particle so small that it took scientists 50 years to find it. Headlines exploded last year when the so-called "God particle" was detected, but can something so small really be so important? Renowned theoretical astrophysicist Lawrence Krauss spends the evening explaining why without this elusive mini-particle, our entire understanding of physics would unravel. Bring along or pick up a copy of Krauss's latest book, A Universe from Nothing: Why There Is Something Rather Than Nothing, if you would like an autograph. $28-$40 (student discounts available), tickets here. 6:45 p.m. to 8:45 p.m. Natural History Museum.
*BONUS*: Grammy-winning Smithsonian Folkways artists Los Texmaniacs are in town tonight for the first time since the release of their latest album, Texas Towns & Tex-Mex Sounds. The Texan quartet plays jams rooted in conjunto polka music (with instruments like the 12-string banjo sexto and the button accordion), but also draws from classic rock, blues and Chicano dance sounds. Polka the night away! $15, tickets here. 7:30 p.m. The Hamilton.
Tuesday, January 15: See the President up "Close"
Here's your chance to get up close and personal with Barack Obama. Sure, the president himself is busy preparing for his second inauguration, but a huge portrait of him by famed artist Chuck Close is on display today in the National Portrait Gallery. Stop by to congratulate Mr. President on his reelection or to air your political grievances to him — just be sure not to disturb the other visitors. (Close, by the way, also has captured Al Gore and Hillary Clinton, and was appointed in 2010 to the President's Committee on the Arts and Humanities.) Free. On display until March 2013 on the second floor of the South Rotunda at the National Portrait Gallery.
Wednesday, January 16: Between the Folds
There is a lot more to origami than making cute cranes. The 17th century Japanese art of paper folding is still seriously practiced today by artists who devote their entire lives to learning its intricate and often deeply mathematical techniques. Between the Folds, a documentary, profiles a group of artists and scientists who hope to push the art to its next level. One of the group's artists, Erik Demaine, will present the film, as well as answer questions and demonstrate folds. Free. Noon. Renwick Gallery.
Thursday, January 17: Peacock Room Shutters Open
Want a taste of luxury? The Freer Gallery's Peacock Room, once an opulent British dining room, now hosts more than 250 ceramics from Egypt, Iran, Japan, China and Korea that museum founder Charles Lang Freer collected on his travels. At noon, the museum opens the room's shutters to bathe the collection in sunlight, and the room glows blue, green and gold. The shimmering colors won't fade any time soon, either; special filtering film on the room's windows prevents the sun's effects on the ceramics. Free. Noon to 5:30 p.m. Freer Gallery.
Also check out our specially created Visitors Guide App. Get the most out of your trip to Washington, D.C. and the National Mall with this selection of custom-built tours, based on your available time and passions. From the editors of Smithsonian magazine, the app is also packed with handy navigational tools, maps, museum floor plans and museum information including 'Greatest Hits' for each Smithsonian museum.