Events January 11-13: Civil Disobedience, Farm-Fresh Foods and Arabic Calligraphy Lessons
This week, protest racial segregation in the 1960s, discover DC's "slow food" movement and learn to write in Arabic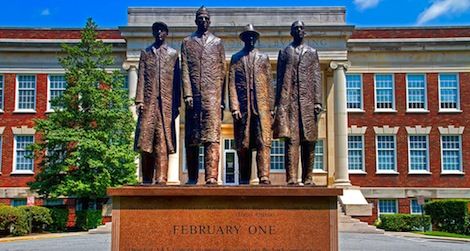 Friday, January 11: Join the Student Sit-Ins at the Greensboro Lunch Counter
Four black students sat at a Woolworth's lunch counter in 1960 and helped to change the course of American history. By refusing to leave when the staff declined to serve them, the students inspired "sit-ins" around the South in protest of racial segregation. This weekend, travel back in time to join the Civil Rights movement with a historical reenactment of a civil disobedience training session, delivered from a 1960s manual and alongside a section of the lunch counter from the Greensboro, NC store. (Just be sure to return to 2013 before the museum staff kicks you out.) Free. 11:30 a.m., 1:30 p.m., 3:00 p.m. and 4:30 p.m. on most Fridays-Sundays in January. American History Museum.
Saturday, January 12: Farm-to-Table Family Day
Ditch the greasy food trucks this afternoon and bring the kids to a celebration of the city's "slow food" movement. Through live music, hands-on activities and a fruit and veggie artwork scavenger hunt, the celebration aims to teach participants the value of farm-fresh foods and to encourage local buying. Recipes will be available to take home so that you can ditch the greasy food trucks again tomorrow. Free. 11:30 a.m. to 3 p.m. Kogod Courtyard, American Art Museum, Portrait Gallery.
Sunday, January 13: Learn Arabic Calligraphy
A billion people today read and write in Arabic – here is your chance to join them. View the elegant script on ancient objects like tombstones from a cemetery north of Mecca in a guided tour of "Roads of Arabia: Archaeology and the History of the Kingdom of Saudi Arabia," an exhibit that traces disparate trade routes that met at the holy city, then try your hand at mastering Arabic calligraphy with a demonstration of the ornate art and a writing lesson. Yallah! Free. 2 p.m. on both Saturday and Sunday. Sackler Gallery.
Also check out our specially created Visitors Guide App. Get the most out of your trip to Washington, D.C. and the National Mall with this selection of custom-built tours, based on your available time and passions. From the editors of Smithsonian magazine, the app is also packed with handy navigational tools, maps, museum floor plans and museum information including 'Greatest Hits' for each Smithsonian museum.