Events January 1-3: Arctic Traditions, Contemporary Art and Stitching Workshops
Travel up North, tour the best of the Hirshhorn and become a crafting sensation all in one week!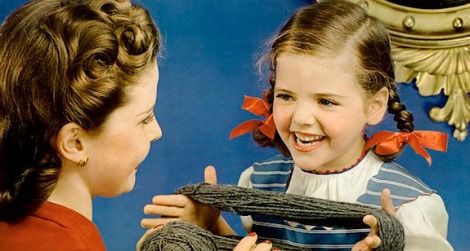 Tuesday, January 1: Triple Feature From the Arctic
Now that you've rung in another new year, you may be in the mood to broaden your horizons. But no need to take the 13-hour flight to your bucket list destination just yet. Just stop by the American Indian Museum for a screening of three films from Arctic cultures. Two films by Tara Young Handmade Portraits: Mabel Pike and Handmade Portraits: The Bone Carver provide snapshot portraits of community members keeping traditions alive, from foraging to beading to carving. The third, a film by Alethea Arnaquq-Baril (Iqaluit), looks deeply at a dying tradition. Tunniit: Retracing the Lines of Inuit Tattoos chronicles the history of face tattoos and their now-forbidden place within Inuit culture. Free. 3:30 p.m. American Indian Museum.
Wednesday, January 2: Hirshhorn Spotlight Tours
Maybe one of your resolutions for the new year was to get a little more artsy but you don't exactly look smashing in a beret. Try a docent-led tour of the Hirshhorn highlights instead. The contemporary art museum, currently showing a blockbuster exhibition of Ai Weiwei's work, has pieces from greats like Andy Warhol and Henri Matisse. Monday through Friday, the docents are on hand for four hours at the information desk for casual questions or a 30-minute tour through the museum. Free. 12:00 p.m. to 4:00 p.m. Hirshhorn Museum.
Thursday, January 3: Sit 'n' Stitch
Or maybe one of your goals was to start a successful online business from your crafty inclinations. Well then, join local Etsy sellers Julia Longueville and Brian Leenig for a little stitching and a little conversation about the Etsy life. Beginners and pros alike are welcome to gather at the Renwick Gallery, whose exhibit "40 under 40: Craft Futures" is on view, featuring the best of crafted works from young artists. Who knows, maybe you'll make the next 40 under 40 list. Free. 12:30 p.m. to 2:00 p.m. Renwick Gallery.
And if you happen to have a herd of family members curious to explore all the Smithsonian has to offer, just download our specially created Visitors Guide App. Get the most out of your trip to Washington, D.C. and the National Mall with this selection of custom-built tours, based on your available time and passions. From the editors of Smithsonian magazine, the app is also packed with handy navigational tools, maps, museum floor plans and museum information including 'Greatest Hits' for each Smithsonian museum.
For a complete listing of Smithsonian events and exhibitions visit the goSmithsonian Visitors Guide. Additional reporting by Michelle Strange.