Events Jan 3-5: Discovery Room, Creating a Totem Pole and Tarantula Feedings
This week, participate in hands-on science activity, watch a totem pole being made and see live tarantula feedings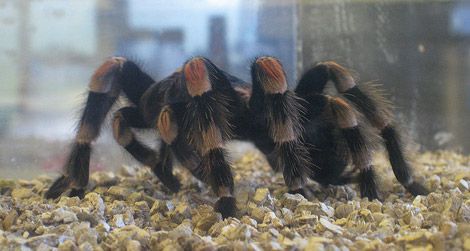 Tuesday, January 3 Discovery Room
Bring children and students to the Discovery Room for a chance to do hands-on activities with real museum objects and artifacts. Visitors are able to use scientific equipment to examine fossils, skulls and shells, and museum docents are available to answer questions. Come to learn about everything from dinosaurs to ancient Egypt. Free. Open Tuesday through Thursday 12 to 2:30 p.m. and weekends 10:30 a.m. to 2:30 p.m. For school groups, reservation required. Natural History Museum, 1st floor, East wing.
Wednesday, January 4 Creating A Totem Pole
Master carvers David Boxley and his son, David Boxley Jr., of the Tsimshian nation of Washington State, are building a specially-commissioned 22-foot totem pole for the American Indian Museum's main Potomac Atrium.  Watch these artists-in-residence complete and paint the totem pole, and learn about the carving tradition and stories expressed in these items. Free. Daily 10 a..m. to 12 p.m. and 1 p.m. to 5:30 p.m. through January 11. American Indian Museum, Potomac Atrium.
Thursday, January 5 Tarantula Feedings
Come see the Natural History Museum's resident tarantula population enjoy mealtime. Museum volunteers put on feeding demonstrations daily, where you can touch and hold the Insect Zoo's creatures while watching them chow down on crickets and other tasty treats. Tarantula feedings take place year-round from Tuesday to Friday at 10:30, 11:30 and 1:30,  and at 11:30, 12:30 and 1:30 on Saturday and Sunday. Free. Natural History Museum, O. Orkin Insect Zoo.
For a complete listing of Smithsonian events and exhibitions visit the goSmithsonian Visitors Guide. Additional reporting by Michelle Strange.