Events: Honoring Elvis, a Kimono Fashion Show, Fun with Nanotechnology and More!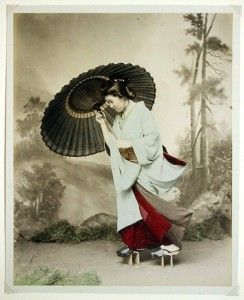 Monday, March 29: Words Between Two Reformers: Mary McLeod Bethune and Eleanor Roosevelt: Cultures in Motion Performance
In this theatrical piece, learn about the friendship between Eleanor Roosevelt and Mary McLeod Bethune who was a member of the Black Cabinet, a collective of representatives working in New Deal agencies that worked to meet the needs of African Americans. Free, but seating is limited. To reserve your spot, call 202-633-8520 or e-mail: [email protected]. National Portrait Gallery, 7:00 PM.
Tuesday, March 30: Nano Days 2010
Come learn about nanotechnology at Spark!Lab. Learn about small-scale science through such activities as constructing a giant model of a carbon nanotube out of balloons, measuring height in nanometers, creating a color-changing liquid crystal display and more! This even repeats daily through April 3. Free. American History Museum, 10:00 AM-4:00 PM.
Wednesday, March 31: Elvis Presley: A 75th Tribute to the King
Tonight, American music specialist Robert Wyatt offers a comprehensive telling of the King's life from his childhood through his rise to fame and to his untimely death at age 42. Bop along to classic songs like "Hound Dog" and "Blue Suede Shoes," take in clips from his movies such as King Creole and Jailhouse Rock and enjoy rare, archival footage and interviews that illuminates Presley's career. Tickets are required. Please see the Resident Associate program's website for ticket information. Resident Associate Program, 6:45-9:00 PM.
Thursday, April 1: The Pablo Aslán Quintet: "Tango Grill"
Come celebrate Jazz Appreciation Month by enjoying an evening of tango tunes performed with a contemporary jazz twist, courtesy of the Pablo Aslán Quintet. Free, American History Museum, 6:30-8:00 PM.
Friday, April 2: The Art of the Kimono: Fashion Show
Come gain an appreciation of Japanese textiles! Nancy McDonough, owner Kyoto Kimono of New York, who will discuss the cultural and aesthetic significance of this traditional form of Japanese apparel while you enjoy a fashion show featuring vintage kimono styles. This event will repeat on Sunday, April 4. Free. Freer, 1:00 PM.
For news and updates on all events and exhibitions, check our companion website goSmithsonian.com