Events February 26-28: A Garden Scavenger Hunt, Japanese Flute and Drums and Author Taylor Branch
This week, get active in Smithsonian's gardens, jam out to jazz on traditional Japanese instruments and meet the author of The King Years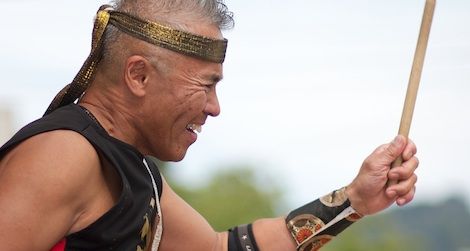 Tuesday, February 26: Let's Move! with Smithsonian Gardens
Here's a fun way to get active now that the weather's taking a sunny turn: a scavenger hunt around the Mall. Smithsonian Gardens, which maintains the Mall's lovely flora, provides free "Hunt Guides" at Smithsonian's various museums (also available for download here). The guide has maps, challenges and a checklist that take you around the different gardens while giving mini-lessons about gardening and fitness. Get outside and make Michelle Obama proud! Free. 10 a.m. to 5:30 p.m., brochures available until October. Smithsonian Gardens.
Wednesday, February 27: Rhythms of Japanese Drums and Flutes
Ba-da-da-da-dum! Japanese drums! Two of the world's best Japanese drummers, Kaoru Watanabe of renowned drumming ensemble Kodo and taiko superstar Kenny Endo, rock the museum tonight with a medley of traditional beats, kabuki classics and original jazz-influenced compositions. Both drummers were born in America and grew up with jazz and spent a decade abroad honing their traditional Japanese drumming and flute chops. Having difficulty imagining what jazz sounds like on a flute accompanied by a giant drum? Check it out. Free tickets required. 7:30 p.m. Freer Gallery.
Thursday, February 28: The King Years: Historic Moments in the Civil Rights Movement
Pulitzer Prize-winning author Taylor Branch is in the house this evening to talk about The King Years: Historic Moments in the Civil Rights Movement, an abridged version of his famous historical trilogy under the same header that chronicles the Civil Rights era from 1954 to 1968 with a focus on Martin Luther King, Jr. Branch, a MacArthur Fellow who has written for a variety of prominent publications and published nine books, will sign books following his discussion. Free, registration requested. 7 p.m. American History Museum.
Also, check out our Visitors Guide App. Get the most out of your trip to Washington, D.C. and the National Mall with this selection of custom-built tours, based on your available time and passions. From the editors of Smithsonian magazine, the app is packed with handy navigational tools, maps, museum floor plans and museum information including 'Greatest Hits' for each Smithsonian museum.
For a complete listing of Smithsonian events and exhibitions visit the goSmithsonian Visitors Guide. Additional reporting by Michelle Strange.