Events February 22-24: Early Human Adaptation, Orchids and the Harlem Renaissance
See evidence of how early humans adapted, celebrate Latin America's coolest flowers and learn about Harlem the Renaissance's most important artists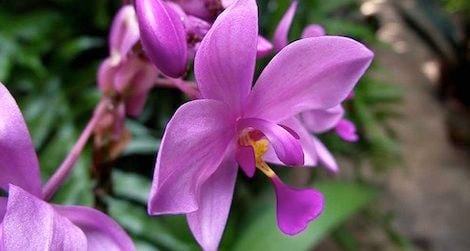 Friday, February 22: Recognizing Adaptation in the Early Human Fossil Record
We humans have come a long way from our caveman (or cavewoman) ancestors. We have complex languages, elaborate societies and iPods. But how have we changed physically? Our bodies' adaptations to our environments have been key in ensuring our survival over all these years. Friday, George Washington University's Dr. Erin Marie Williams talks about recognizing evidence of adaption in early human fossils. A part of Smithsonian's HOT (Human Origins Today) Topic series, the discussion encourages audience members to join in the conversation. Free. 3 p.m. to 4 p.m. Natural History Museum.
Saturday, February 23: Orchids of Latin America Family Day
Orchids' exotic beauty is appreciated around the world. One of the two largest families of flowering plants, with around 25,000 accepted species, the flower grows in the most concentrated varieties in the tropics, including Latin America. Smithsonian celebrates Latin America's orchids today with a family flower extravaganza, including orchid mosaic building, orchid tattoos and face painting. Orchid experts are on site to answer questions and to show off some of the unique plants from their collections. Free. 10 a.m. to 2 p.m. Natural History Museum.
Sunday, February 24: Against the Odds: The Artists of the Harlem Renaissance
Director Amber Edwards offers a trip back to the 1920s today in Against the Odds: The Artists of the Harlem Renaissance, a 1-hour documentary about the black writers, musicians, artists and intellectuals who launched a cultural movement that redefined how America viewed African Americans. Seeing the film and joining the discussion that is held afterwards are perfect ways to celebrate Black History Month this weekend. Free. 2 p.m. to 3:30 p.m. Anacostia Community Museum.
Also, check out our Visitors Guide App. Get the most out of your trip to Washington, D.C. and the National Mall with this selection of custom-built tours, based on your available time and passions. From the editors of Smithsonian magazine, the app is packed with handy navigational tools, maps, museum floor plans and museum information including 'Greatest Hits' for each Smithsonian museum.
For a complete listing of Smithsonian events and exhibitions visit the goSmithsonian Visitors Guide. Additional reporting by Michelle Strange.