Events February 15-17: Sketching Lessons, Arabian Jazz and Lincoln's Dream
This week, indulge your creative side, hear Arab music, and meet a children's book author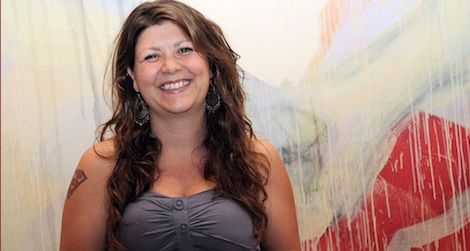 Friday, February 15: Drawing at Dusk!
Loosen your tie, roll up your sleeves and let your creative side shine this evening with the latest installment of Smithsonian's Draw and Discover series. Guest instructor Lauren Boilini, an award-winning artist, gives a brief sketching lesson, then lets you doodle to your heart's content. Drawing materials provided. Open to all artistic abilities. Make something you can be proud to hang on your wall this weekend. Free. 5:30 p.m. American Art Museum.
Saturday, February 16: New Sounds from Arab Lands
Tonight: a trip between worlds. Your guides: Kinan Azmeh, Basel Rajoub, Jasser Haj Youssef, Feras Charestan and Khaled Yassine. The vehicle: music. These five young performer-composer from Syria and Tunisia infuse Western classical and jazz with an Arab flair, producing sounds simultaneously deeply rooted in tradition and profoundly new. You've never heard a clarinet rock out like this before. Free tickets required. 7:30 p.m. Freer Gallery.
Sunday, February 17: Book Signing: Lane Smith
Abraham Lincoln was haunted by his dreams. Caldecott award-winning children's book author Lane Smith told NPR in a recent interview that the 16th president often dreamed he was aboard a vessel moving towards an indistinct shore while asleep, a recurring dream that frightened him on nights before major events during the Civil War and even the night before his assassination. Smith, however, has imagined a very different kind of dream for the national hero. In his new Abe Lincoln's Dream, Lincoln's troubled ghost drifts through the present-day White House and comes across a young girl, who shows him how America has moved towards unity and equality since his death. Today, Smith is available to sign copies of his book, which can be purchased in the museum gift shop. Free. 12:30 p.m. to 2:30 p.m. American History Museum.
Also, check out our Visitors Guide App. Get the most out of your trip to Washington, D.C. and the National Mall with this selection of custom-built tours, based on your available time and passions. From the editors of Smithsonian magazine, the app is also packed with handy navigational tools, maps, museum floor plans and museum information including 'Greatest Hits' for each Smithsonian museum.
For a complete listing of Smithsonian events and exhibitions visit the goSmithsonian Visitors Guide. Additional reporting by Michelle Strange.