Events February 12-14: Women in Sustainability, China's Investment in Africa and an Emancipation Proclamation Theater Performance
This week, hear from a panel of sustainability rock stars, see a documentary on China's presence in Africa and watch a Black History Month celebration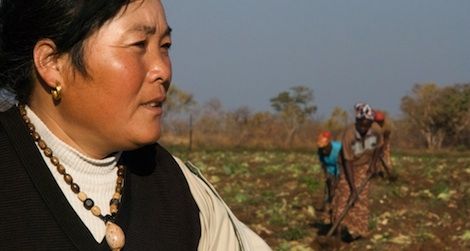 Tuesday, February 12: Women in Sustainability
Brilliant women are paving the way to responsible environmental stewardship with sustainable designs, innovative education ideas and progressive policies. This evening, hear from a panel of female sustainability rock stars on their push at local and national levels to make the world a cleaner, better place. Panelists include Ellen Cecile McBarnette of Urban Solar Solutions, Kara Davis of Green Living DC, Sharon Bradley of Bradley Site Design, Acacia Bamberg Salatti of the Center for Faith-Based and Neighborhood Partnerships and Edith Hancock of DC EcoGreen. Free. 7 p.m. Anacostia Community Museum.
Wednesday, February 13: When China Met Africa
In the movie trailer for When China Met Africa, an African man driving in his truck down a dirt road says to the camera, "I was here six months ago. It was a bush." The truck turns a corner, and the framework of a monolithic, under-construction factory appears. "It just gives you a sense of the pace at which these guys are able to deliver," the man says. The 2010 film, an award-winning documentary directed by Marc and Nick Francis, tells the story of China's growing presence in Africa by following a Chinese agricultural entrepreneur, a Chinese manager in charge of a highway expansion project in Zambia and Zambia's trade minister, who seeks to secure China's investment in his country. A Skype question and answer session with co-director Nick follows the film. Free. 7 p.m. Freer Gallery.
Thursday, February 14: To the Mountaintop: Voices of Emancipation
Local actors London Edgerton and Xavier Carnegie celebrate Black History Month and the 150-year anniversary of the Emancipation Proclamation today with a multi-media theater performance. The show incorporates songs, images and the words of prominent black leaders to convey the monumental importance of emancipation in our nation's history. Free. 3:00 p.m. to 3:30 p.m. and 4:30 p.m. to 5 p.m., Tuesday through Saturdays in February. American History Museum.
Also check out our specially created Visitors Guide App. Get the most out of your trip to Washington, D.C. and the National Mall with this selection of custom-built tours, based on your available time and passions. From the editors of Smithsonian magazine, the app is also packed with handy navigational tools, maps, museum floor plans and museum information including 'Greatest Hits' for each Smithsonian museum.
For a complete listing of Smithsonian events and exhibitions visit the goSmithsonian Visitors Guide. Additional reporting by Michelle Strange.