Events December 7-9: 3-D Caves, Custom Kicks and Talk-Rock
Catch the hot new virtual reality art project, create your own "mockups" with artist Louie Gong and take in a talk and show with Fire and the Wheel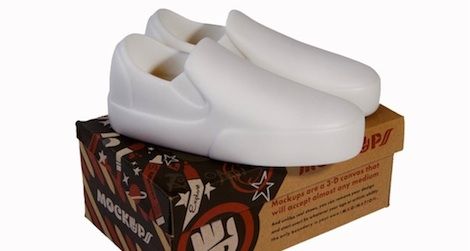 Friday, December 7: Caves of the Thousand Buddhas in 3-D
It's hard to overhype this one. A 3-D recreation of the one of the Caves of Thousand Buddhas, replete with colorful and ornate paintings, is now as simple as visiting the Sackler. The digital exhibition Pure Land: Inside the Mogao Grottes at Dunhuang got rave reviews, not least of which were Around the Mall's own: "It really feels as though, if you reached out, you'd feel weathered millennial aged stone, rather than a smooth plastic screen. The digital cave, in short, is unnervingly lifelike." Made possible by a whole host of institutions, including the City University of Hong Kong and Dunhuang Academy. Sadly, the exhibit closes on Sunday, so you're going to want to go now, Friday, Saturday and maybe Sunday too. Free, but timed-tickets required. Through Sunday, December 9. Sackler Gallery.
Saturday, December 8: Design Yourself: IAMNMAI Art Jam
A sharpie and a pair of shoes. That's all it took to launch Seattle-based artist Louie Gong's Eighth Generation. The Nooksack/Chinese/Scottish/French artist is all about DIY expressions of identity that transform everyday items into a customized piece of material culture. He'll be debuting his newest art object/toy "mockups," which visitors can purchase and make their own at the American Indian Museum's Art Jam. The museum has also invited local artists, including Lee Newman, Chris Pappan, Lisa Schumaier and Debra Yepa-Pappan to join the jam, as well as DJ Will Eastman. Part show, part event, part party, the Art Jam has a little something for everyone. Free. 7:00 p.m. to 10:00 p.m. American Indian Museum.
Sunday, December 9: Luce Unplugged with Fire and the Wheel
First a talk, then some rock. The Luce Unplugged series combines curator's talks with local live music and this week's installment brings indie rockers Fire and the Wheel to the American Art Museum. Compared to everyone from Joy Division, Pink Floyd and Jesus and Mary Chain but with influences from Neil Young to Belle and Sebastian, the foursome just formed earlier this year. Coffee and tea will be available, just to make sure your Sunday afternoon spent rocking is also still dignified and museum-worthy. Free. 1:30 p.m. to 3:30 p.m. American Art Museum.