Events Dec. 27-29: Winter Break Programs, Camp Kwanzaa
This week, take part in the Portrait Gallery's special winter break and celebrate Kwanzaa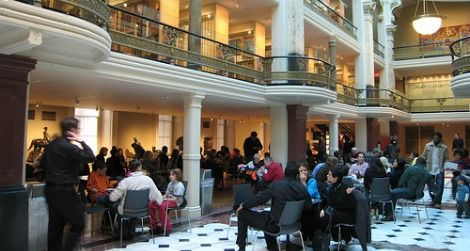 Tuesday, December 27 Winter Break Special Programs
This winter break, bring the kids to enjoy a whole range of special activities at the Portrait Gallery. Check out a Discovery Kit to learn more about some of the famous Americans featured in the gallery, or join in the group art project, in which you'll have the chance to contribute to a piece that will hang in the Education Center. Each day, a new figure will be featured in the work, and a different medium used. Free. 1 to 4 p.m., Repeats daily through Dec. 30. National Portrait Gallery, Education Center.
Wednesday, December 28 Camp Kwanzaa
Come for a family-friendly day of celebration sponsored by the Anacostia Community Museum. This program features Kwanzaa-related performances, hands-on activities and crafts that are sure to be fun for participants of all ages. Interactive music, drama and dance activities allow everyone to show their creative side in enjoying this seven-day festival. Free. For reservations, call 202-633-4844. 10:30 a.m. Our Lady of Perpetual Help Church, Panorama Room, 1600 Morris Rd., SE, Washington, DC 20020
Due to a scheduling error, Art + Coffee will be held on January 29, not December 29. Stay tuned for more information in the coming weeks.
For a complete listing of Smithsonian events and exhibitions visit the goSmithsonian Visitors Guide. Additional reporting by Michelle Strange.