Events: Children's Day, Digital Art, Former First Lady Rosalynn Carter and More!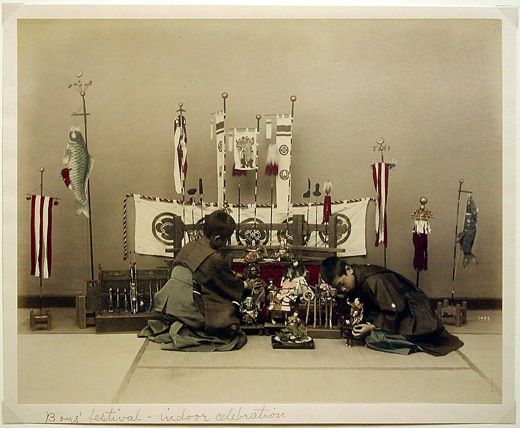 Sorry kids, nothing special is happening today. But be sure to check out this site for the long list of events and activities always happening at the Smithsonian.
Tuesday, May 4: Collectors' Roundtable: Collecting for the Long Haul
Were you bitten by the collecting bug after watching last night's episode of Antiques Roadshow? If you're looking to start a collection of your own—specifically one centered around artworks—you may have a few questions burning in your head you'll want answered before taking the plunge. Tonight is the last installment of the annual Collector's Roundtable series and Richard Kelley, who compiled the Kelly Collection of American Illustration, will offer his insights on how to collect for the long haul. Free. American Art Museum, 7:00 PM.
Wednesday, May 5: Kodomono Hi: It's Children's Day
It's Children's Day in Japan—an annual holiday that celebrates children and their mothers. To mark the day here in the US, come on out to the Discovery Theater and enjoy a performance by the Kodomono Dance Theater. Tickets are required. Rates are: $6 general admission; $5 children; $4 for Resident Associate Program Members and $4 for children of Resident Associate Program Members. Children under 2 are free, but please include them in your ticket order. You may purchase tickets online or in person at the Resident Associate Program box office. Discovery Theater, 10:15 AM. This event repeats today at 11:30 AM.
Thursday, May 6: Digital Art: In Conversation with Wolf Lieser
Director of Germany's Digital Art Museum Wolf Lieser discusses his new book Digital Art, which covers all aspects of digital art from an international perspective. Free, but reservations are required. Please RSVP by calling 202-289-1200 ext. 169 or e-mail [email protected]. Hirshhorn, 6:30 PM.
Friday, May 7: Discussion and Book Signing: Rosalynn Carter
Author and former First Lady Rosalynn Carter discusses her latest book Within Our Reach: Ending the Mental Health Crisis, which examines the state of mental health care using personal stories drawn from her 35 years of advocacy in this field. Mrs. Carter will be available to sign copies of her new book, which will be available for purchase on-site. Please note: positions in the signing line will be determined by the number printed on your cash register receipt; do not bring memorabilia to be signed; no posed photos will be taken and the Smithsonian reserves the right to limit books brought from home. Free. National Portrait Gallery, 12:00-1:30 PM.
For updates on all exhibitions and events, visit our companion site goSmithsonian.com