Events August 8-11: Student Sit-ins, When Volcanoes Erupt and John Wayne in the Philippines
This week: experience the Greensboro lunch counter sit-ins, get a lesson on volcano scholarship and attend an evening "Mingle at the Museum"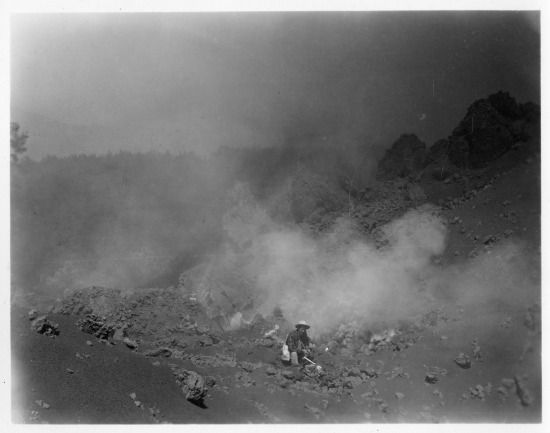 Monday, August 8 History Comes Alive
The student sit-ins marked a crucial turning point in the Civil Rights struggle of the 1960s. As part of the American History Museum's Historic Theater series, you can get a taste of what it meant to be a part of them. Actors will put participants through a training session based on the actual manual used. Free. Thursdays-Mondays at 11:30, 1:30, 3 and 4. Meet at Greensboro Lunch Counter, 2nd Floor, East Wing.
Tuesday, August 9 When Volcanoes Erupt
Somebody's got to study volcanoes. Museum geologist Rick Wunderman will tell you how. At this event in the Natural History Museum's "The Expert is In" series, Wunderman will show photos, specimens and talk about what it's really like to get up close and personal with erupting volcanoes, such as Parícutin, which suddenly opened up one day in a central Mexico cornfield, back in 1943. Free. 1 to 3, Natural History Museum, "More Than Meets the Eye," First Floor.
Wednesday, August 10 John Wayne in the Philippines
Come for a screening of the 1945 film They Were Expendable and see John Wayne battle Japanese forces, save Gen. MacArthur, and get the girl (Donna Reed) in this acclaimed classic. Mary Owen, Reed's daughter, will join the audience and give a brief introduction of the film. Free. 6: 30 to 8:30, American Art Museum, McEvoy Auditorium, Lower Level.
Thursday, August 11 Looks Aren't Everything
What do experts have to say about race? Join this "Mingle at the Museum" event at the "RACE: Are We So Different?" exhibition to speak with curators and scholars about the science of this complex issue. An intimate environment, cash bar and fascinating topic make this an evening event not to be missed. Over 21 only. $25 for members, $30 for general admission, one drink ticket included. 8 p.m. to 10 p.m., Natural History Museum.
For a complete listing of Smithsonian events and exhibitions visit the goSmithsonian Online Visitors Guide. Additional reporting by Michelle Strange.