Events August 28-30: Belief + Doubt, Gallery Talks and Baby Animals
This week, see the latest from Barbara Kruger, crafting contemporaries and the Zoo's baby boom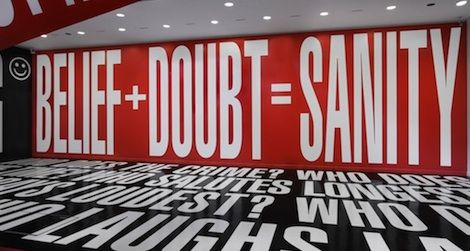 Tuesday August 28, Belief + Doubt
Just in time for the kickoff of the political conventions, Barbara Kruger's new wall-to-wall installation in the Hirshhorn shows us the writing on the wall. Black, white and read all over, the lower lobby of the museum and its bookstore got a makeover thanks to the provocative artist behind slogans like "I shop therefore I am." This election year, her monumental statements take aim at our political climate with phrases including "Belief + Doubt = Sanity." Free. Hirshhorn Museum.
Wednesday August 29, 40 Under 40 Gallery Talk
Join curator Nicholas Bell for a guided tour through the Renwick Gallery's "40 Under 40: Craft Futures" exhibit. Marking the museum's 40th anniversary, the exhibit includes work from 40 artists under the age of 40, presenting the best of contemporary craft. The wide range of works on view include cheeky teapots fused with pistols, edgy accessories and sleek furniture made from reclaimed wood from the Coney Island boardwalk. Learn more about the exhibit and the Gallery's plans looking to the future. 12 p.m. to 1 p.m. Free. Renwick Gallery.
Thursday August 30, Baby Boom at the Zoo
Beat the weekend rush and get a peek at some of the new cuddly creatures on view at the National Zoo. Catch the three-month-old fishing cat kittens as they romp in their new yard along the Asia Trail. Or head over to the cheetahs to catch two new cubs on view. Then check on everyone's favorite giant panda, Mei Xiang, who might just be expecting a baby of her own! Be sure to check the Zoo's calendar for a daily schedule of feedings and viewings to catch the animals at their feistiest. Free. National Zoo.
For a complete listing of Smithsonian events and exhibitions visit the goSmithsonian Visitors Guide. And download our new Visitors Guide & Tours App for both iPhone and Android. Additional reporting by Michelle Strange.