Events August 21-23: A Pilot's Journey, Olympic Trivia and Conservation Clinics
This week, learn more about the Tuskegee Airmen, test your Olympic trivia and learn how to care for your heirlooms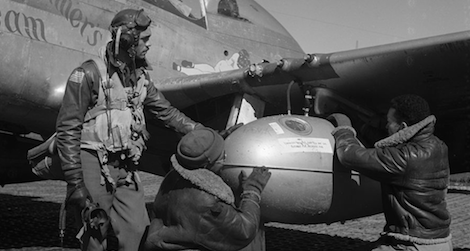 Tuesday August 21, A Pilot's Journey
Author George Norfleet signs copies of his book, A Pilot's Journey: Memoirs of a Tuskegee Airman, Curtis Christopher Robinson. Norfleet looks beyond the more familiar story of the WWII African-American military pilots who earned distinction even while segregation was still the law of the land in many states, to the personal biographies of the pilots. And learn more about the airmen with the Smithsonian's traveling exhibit, "Black Wings: American Dreams of Flight." Free. 12 p.m. to 5 p.m. Repeats most Tuesdays, Wednesdays, Fridays, Saturdays and Sundays. Air and Space Museum.
Wednesday August 22, Pop Quiz: Olympians
London 2012 is over but the games are just beginning at the National Portrait Gallery. Claim your moment of glory with the museum's multimedia quiz and test your knowledge of historical Olympic trivia. Curator Amy Henderson created a quick introduction to the collection's Olympians in case you need to brush up on your athlete facts. The night's winning team will receive a prize. While there won't be podiums and matching bouquets, the museum will have snacks and beverages available for sale. Free. 6:30 p.m. Kogod Courtyard.
Thursday August 23, Curatorial and Conservation Clinics
Not sure what to do with grandpa's old army uniform or your collection of early baseball cards? Come down to the African Art Museum for the Smithsonian's own version of Antiques Roadshow. Curators and conservators will offer advice on how to store your family heirlooms and collected items. Visitors are invited to bring no more than two objects for an expert take on their cultural context and care. Register for one of several brief clinics. Free, registration required. Call 202-633-4640. 1:30 p.m. to 4:00 p.m. African Art Museum.
For a complete listing of Smithsonian events and exhibitions visit the goSmithsonian Visitors Guide. And download our new Visitors Guide & Tours App for both iPhone and Android. Additional reporting by Michelle Strange.