Events: August 19-21: Drunken Master, Hip Hop Kung Fu, Art + Coffee
This upcoming weekend, check out a Kung Fu classic, a hip hop performance and meet emerging musicians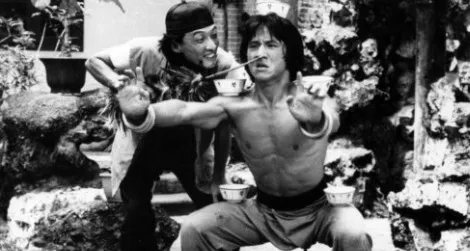 Friday, August 19 Drunken Master
See the film that launched Jackie Chan's career, the 1978 classic Drunken Master. Chan stars as a Chinese folk hero, Wong Fei-hung, who learns the mysterious "Drunken Fist Kung Fu" style of martial arts from a stern master in order to defeat an assassin. The movie mixes action and comedy, and established Chan as a multifaceted and talented star. Cantonese with English subtitles. Free. 7 p.m. Repeats Sunday at 2 p.m. with a panel discussion at 4 p.m. Freer Gallery, Meyer Auditorium.
Saturday, August 20 Hip Hop Meets Kung Fu
Come experience the unique mix of hip hop and kung fu that is Hop Fu. DJ IXL and DJ Excess, also known as the Kolabz Crew, will rock the house with a live score for the classic Hong Kong film Super Ninjas, their first return to Meyer Auditorium since they performed a live score for Prodigal Son in 2007. After the film, the DJs will stay for a Q&A session and give audience members hands-on lessons in scratching. Free. 2 p.m. Freer Gallery, Meyer Auditorium.
Sunday, August 21 Art + Coffee
The Luce Center's Art + Coffee series brings together art experts and emerging local musicians for a special DC experience. This week, curators will discuss sculptor Jesús Morales' Georgia Stele, a piece picked out by the DC instrumental trio Star FK Radium. A live performance by the group will follow as they showcase their unique blend of chamber music and classic rock. Come for the art, stay for the music! Free. 1:30 p.m. American Art Museum
For a complete listing of Smithsonian events and exhibitions, visit the goSmithsonian Visitors Guide. Additional reporting by Michelle Strange.