Events August 15 – 18: Born to Be Wild, Negro League Stories, Book Signing and a Jazz Funk Show
This week, Smithsonian brings you an IMAX animal adventure, storytelling about the Negro League era, a visiting author and a free outdoor jazz funk concert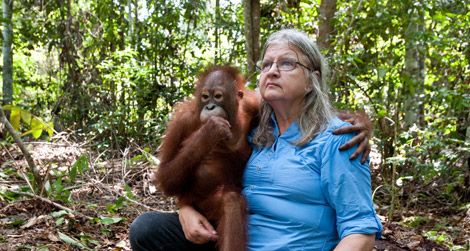 Monday, August 15 Born to Be Wild
See the endangered elephants of Kenya and orangutans of Borneo up close and personal in Born to Be Wild 3D. Narrated by Morgan Freeman, the stunning IMAX film tells the stories of both of these remarkable species and the scientists who work with them. Tickets are $9 for adults, $8 for seniors, and $7.50 for children (ages 2 to 12), and can be purchased at si.edu/imax. Johnson IMAX Theater at the Natural History Museum. Film shown at 2:25, 4:25, and 6:25 daily.
Tuesday, August 16 Stories of the Negro Leagues
The Anacostia Community Museum presents a discussion of the Negro Leagues of baseball. Dwayne Sims, the founder of the Negro League Legends Hall of Fame, will interview Levi "Chappie" Drew, a member of the Indianapolis Clowns, about his experiences playing in the league. Door prizes will be given! Free. Anacostia Community Museum. 10:30 a.m.
Wednesday, August 17 Book Signing
Will Kaufman comes to the National Portrait Gallery to discuss his book Woody Guthrie, American Radical. Drawing upon unseen archival materials, Kaufman presents a new picture of Guthrie, as a political activist and independent thinker. Afterward, Kaufman will sign copies of the book for those in attendance. Free. National Portrait Gallery, bookstore. Noon to 1.
Thursday, August 18 Jazz Funk Concert
This Thursday night, come to the American Art's Museum's "Take 5!" Jazz Concert Series. Baltimore's Kelly Bell Band will perform a fusion of hip-hop, blues and funk. The outdoor courtyard provides an intimate environment with great art and refreshments. Free. American Art Museum, Kogod Courtyard. Concert is 5-8 p.m.
For a complete listing of Smithsonian events and exhibitions, visit the goSmithsonian Visitors Guide. Additional reporting by Michelle Strange.