Events April 6-8: Kyoto Kimonos, American Pictures: Tony Horwitz, Castle Highlights Tour
This weekend check out the Kyoto Kimono: Spring Trunk Show, American Pictures: Tony Horwitz and take a tour of the Institution's first and oldest building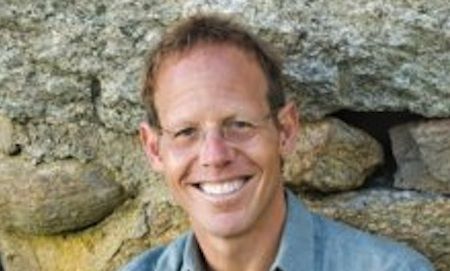 Friday, April 6 Kyoto Kimono: Spring Trunk Show
Vintage clothes are in and this Friday, the Sackler shop will put a different spin on thrift-store shopping. Come out for a holiday trunk show of vintage Japanese kimono robes and jackets from Kyoto Kimono, an online Japanese garment boutique based in upstate New York. Included in the collection is a full range of authentic kimono robes, haori jackets and obi sashes collected from the auction houses and temple markets of Kyoto, Japan. Owner Nancy McDonough, who lived in Kyoto for several years, will be on hand each day to discuss the garments, textile techniques and the interplay between kimono and Japanese culture. Noon to 5:30 p.m. Freer and Sackler Galleries.
Saturday, April 7 American Pictures: Tony Horwitz
Abolitionist John Brown's fight for freedom was a catalyst for the secessionist movement leading up to the Civil War. This Saturday, Pulitzer Prize–winning journalist, travel writer, and historian Tony Horwitz will talk about his book, Midnight Rising: John Brown and the Raid That Sparked the Civil War and the portrait of John Brown in captivity—a painting that hides as much as it reveals. 2:00 p.m. Free, tickets available at 1:30. McEvoy Auditorium, American Art Museum.
Sunday, April 8 Castle Highlights Tour
There are quite a few myths and urban legends about the Smithsonian. Is the Hope Diamond cursed? Did Betsy Ross stitch the Star Spangled Banner? What mysteries lie within the walls of the Castle, the Institution's first and oldest building. This Sunday, learn the real history of the founding and early days of the Smithsonian, its original benefactor James Smithson, and the history and architecture of the Castle. The tour will take you from the West Wing to the Great Hall—as well as to the crypt where the founder's remains remain. Free. 10:30 a.m., meet at the information desk, Smithsonian Castle.
For a complete listing of Smithsonian events and exhibitions visit the goSmithsonian Visitors Guide. Additional reporting by Michelle Strange.