Events April 30-May 2: Origins of the Renaissance, Native Crafts and History Reanimated
This week, hear how a Roman emperor may have started the Renaissance, make your own Native art and meet digital animation artist Kota Ezawa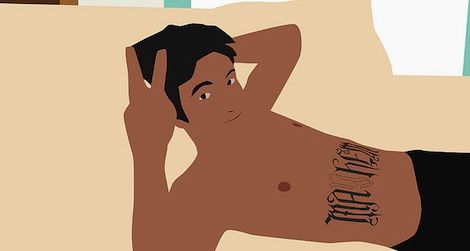 Tuesday, April 30: Did an Emperor Kick-Start the Renaissance?
Most of the art of Emperor Frederick II's court was destroyed after his death, but there is evidence that the Roman ruler, who directed his artists to recreate the splendor of ancient Rome, sparked the Renaissance during his reign in the 13th century. This evening, art historian Louisa Woodville, a teacher at George Mason University, juxtaposes the surviving works of Frederick's court with those of the proto-Renaissance to make the case for the emperor's influence. Tickets $25, with member discounts. 6:45 p.m. to 8:15 p.m. Ripley Center.
Wednesday, May 1: Hands-On Family Craft Activities
Most Wednesdays and Saturdays this Summer, the American Indian Museum is offering a hands-on experience of Native culture. Stop by the museum this afternoon to learn how to make a Native craft that you can take home with you. Free. 1:30 p.m. to 3:30 p.m., Wednesday and Saturdays through August. American Indian Museum.
Thursday, May 2: Meet Artist Kota Ezawa
Japanese-German artist Kota Ezawa recreates famous moments in television, film and art history with rudimentary digital drawing and animation software. Frame by frame, he has covered the Kennedy assassination and O.J. Simposon's trial to clips from popular movies. This evening, the artist discusses the method behind his approach with a talk on "A History of 'Poor Animation.' " Free. 7 p.m. Hirshhorn Museum.
Also, check out our Visitors Guide App. Get the most out of your trip to Washington, D.C. and the National Mall with this selection of custom-built tours, based on your available time and passions. From the editors of Smithsonian magazine, the app is packed with handy navigational tools, maps, museum floor plans and museum information including 'Greatest Hits' for each Smithsonian museum.
For a complete listing of Smithsonian events and exhibitions visit the goSmithsonian Visitors Guide. Additional reporting by Michelle Strange.