Events April 27-29: Insight into 20th-Century African American Art, Anacostia River & Jazz Fest, Gamer Symphony Orchestra
This weekend, get some insight into 20th-Century African American Art and hear the Gamer Symphony Orchestra perform arrangements of video game music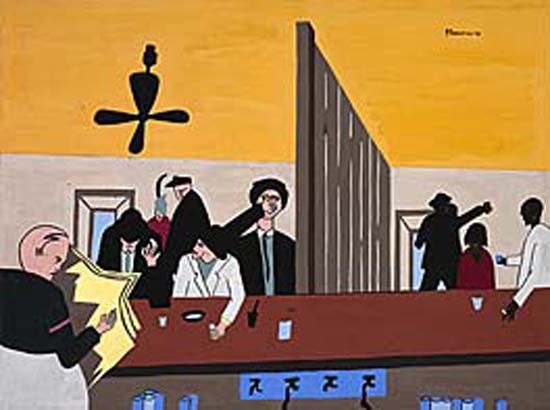 Friday April 27 Insight and Inspiration for 20th-Century African American Art
Starting this weekend, the new exhibit "African American Art : Harlem Renaissance, Civil Rights Era and Beyond" presents a selection of works by 43 black artists who lived through the tremendous changes of the 20th century. The exhibit, which will be on view until September 3, embraces themes both universal and specific to the African American experience: identity, the struggle for equality, the power of music and life in rural and urban America.
This Friday at the event, Insight and Inspiration for 20th-Century African American Art,  join Renee Ater, University of Maryland associate professor of art history and author of the book Remaking Race and History: The Sculpture of Meta Warrick Fuller, in a discussion that will explore the motivation for a number of artists and their works on display in the exhibition. Free. 7:00 p.m.McEvoy Auditorium, American Art Museum.
Saturday, April 28 Anacostia River & Jazz Fest
April is Jazz Appreciation Month (JAM) and what better way to end the festival than to celebrate? This Saturday, reclaim the river with dancing, music and activities during this National Capital Parks-East and JAM event. The afternoon of live jazz takes place on two stages and includes environmental exhibits and workshops and will feature performances by Brazilian artists Origem, urban jazz harmonicist Frédéric Yonnet, pianist Marcus Johnson, and National Meet The Award Composer Recipients and Performers Tony Small (Pianist and Composer) and Victor Provost (Award winning steel pan artist and composer). Small an d Provost's performances are funded in part through New Music USA's MetLife Creative Connections program. Free. 10:00 a.m. to 5:00 p.m. Location: Anacostia Park Skating Pavilion, 1900 Anacostia Drive SE.
Sunday April 29 Gamer Symphony Orchestra
There are certain video game theme songs that stick around. The Super Mario tune, for example. They're catchy and live on in the classics in the gaming world. But what if that music left your television screen and came to life? This Sunday, the University of Maryland's Gamer Symphony Orchestra will make this happen. As the first collegiate ensemble of more than 120 instrumentalists and singers exclusively devoted to performing orchestral arrangements of video game music, gamers and music-lovers alike are sure to enjoy. Arrive early to listen to a pre-concert discussion with composer Austin Wintory at 2:30 p.m.Free. 3:00 p.m. Kogod Courtyard, American Art Museum.
For a complete listing of Smithsonian events and exhibitions visit the goSmithsonian Visitors Guide. Additional reporting by Michelle Strange.