Events April 23-25: Cyrus Cylinder, Collage Art and a Craft Show
This week, hear about one of history's most important artifacts, see how assemblage changed the definition of art and peruse crafts by 121 artists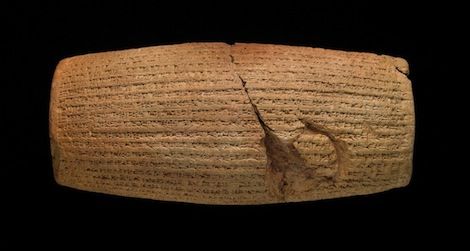 Tuesday, April 23: From Babylon to Persepolis: Cyrus the Great and the Legacy of Ancient Iran
The Cyrus Cylinder is one of the most significant archaeological artifacts in history. Inscribed with cuneiform, one of the earliest known scripts, the football-shaped cylinder of baked clay describes Cyrus the Great's conquest of Babylon in 539 B.C., and describes how the king freed his newly conquered people from religious persecution by restoring their temples and sending prisoners home to worship their own gods. Cyrus' tolerant approach has inspired philosophers and politicians for centuries. The Cylinder is on display at the Sackler Gallery through April 28, and in preparation of its departure, curators of the exhibition today will discuss its archaeological and historical context and lasting legacy. Free. 12:15 p.m. Sackler Gallery.
Wednesday, April 24: Curator Tour: "Over, Under, Next: Experiments in Mixed Media, 1913-Present"
Since 1912, when painter Georges Braque began to mix swatches of printed paper and cloth into his pictures, collage has redefined the limits of artistic expression by blending everyday materials like car parts, butterfly wings and furniture. "Over, Under, Next: Experiments in New Media," a new exhibit at the Hirshhorn Museum, displays approximately 100 assemblages from the past century. This evening, associate curator Evelyn Hankins discusses ways in which artists from almost every major art movement have incorporated assemblage into their work. Free. 7 p.m. Hirshhorn Museum.
Thursday, April 25: Smithsonian Craft Show
Furniture! Ceramics! Glass! Wearable art! More than 100 of America's top artisans are displaying and selling their hand-crafted work this weekend in the institution's 31st annual craft show. Great chance to pick up an early Mother's Day gift, or something for yourself to impress your friends. Daily admission $15; two day admission $20 (12 and under free, no strollers permitted). To purchase tickets, call the Craft Show Office at 202-633-5006 or 888-832-9554, or go here. 10:30 a.m. to 8:30 p.m. today and Friday, 10:30 a.m. to 5:30 p.m. on Saturday, 11 a.m. to 5 p.m. on Sunday. National Building Museum.
Also, check out our Visitors Guide App. Get the most out of your trip to Washington, D.C. and the National Mall with this selection of custom-built tours, based on your available time and passions. From the editors of Smithsonian magazine, the app is packed with handy navigational tools, maps, museum floor plans and museum information including 'Greatest Hits' for each Smithsonian museum.
For a complete listing of Smithsonian events and exhibitions visit the goSmithsonian Visitors Guide. Additional reporting by Michelle Strange.