Events April 20-22: Draw and Discover at Dusk, Welcome Discovery, Earth Day Party for the Planet
This weekend learn to draw at the American Art Museum, visit the space shuttle Discovery and celebrate Earth Day with the National Zoo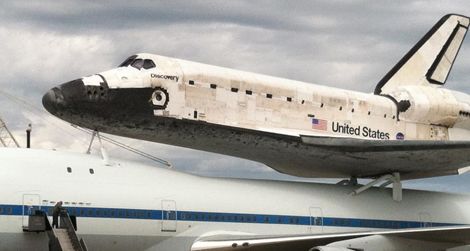 Friday, April 20 Draw and Discover at Dusk
Drawing can be a relaxing activity and the best part is that you don't have to be Vincent van Gogh to enjoy it. This Friday night, wind down with a mini drawing lesson with guest instructor Sheena Custer. Then take what you've learned and spend some time sketching on your own.  Basic drawing materials are provided and a cash bar will be available for the duration of the program. Open to all ages and all levels of artistic ability. Free. 5:30 to 7:30 p.m. American Art Museum.

Saturday, April 21 Welcome Discovery family weekend
Tuesday, the Space Shuttle Discovery was dramatically transported to the Smithsonian's Udvar-Hazy Museum near Dulles International Airport. This Saturday, welcome the famous vehicle as it starts its new career as an American icon of the space program. Enjoy special exhibitions, programs and activities designed for all ages that showcase the history and achievements of the 30-year space shuttle program (1981-2011) and the future of space exploration. Programs address continuing activities on the International Space Station, how we are learning to live and work in space and preparation for exploring farther into the solar system. Watch specialists from the museum and NASA as they perform work on Discovery—they'll also be answering questions from the public. Free. $15 parking fee per vehicle at Udvar-Hazy. 10 a.m. to 5:30 p.m. Continues Sunday April 22. Steven F. Udvar Hazy Center.
Sunday, April 22 Earth Day Party for the Planet
This Sunday, more than 100 of the top zoos and aquariums across North America are throwing the 6th Annual Party for the Planet™—the largest combined Earth Day celebration in North America. Meet environmental leaders from local organizations, participate in hands on activities like seed planting and enjoy original music played by The Richmond Indigenous Gourd Orchestra, on instruments made from locally grown gourds. Free. 11:00 a.m. to 3:00 p.m. National Zoo.
For a complete listing of Smithsonian events and exhibitions visit the goSmithsonian Visitors Guide. Additional reporting by Michelle Strange.