Events April 2-4: Native Sousa Music, Free Art Lessons and Gerhard Richter
This week, learn about a little-known Native American musical tradition, make something creative and see a world-class painter in action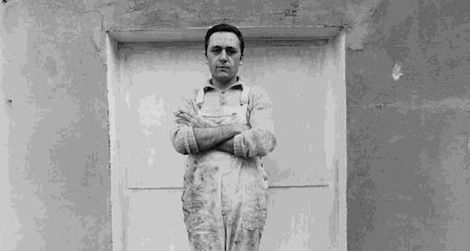 Tuesday, April 2: Sousa on the Rez
John Philip Sousa was a late Romantic era American composer famous for his military and patriotic waltzes—not necessarily the type of music you would expect to hear on a Native American reservation. It turns out, however, that his tuba- and trumpet-heavy marches have been part of many Native American cultures for more than 100 years. "Sousa on the Rez" (2012) is a 30-minute documentary directed by Cathleen O'Connell that explores this little-known Native music scene. Free. 11 a.m. American Indian Museum.
Wednesday, April 3: Creative Workshop with Tamara Thomas
Feel an itch to be a little creative? Local artist Tamara Thomas is on-site today to help museum visitors craft their own unique piece of takeaway art. A range of artistic materials provided—just bring your imagination. Free (reservations required, call 202-633-4844). 10:30 a.m. to 12:30 p.m. Anacostia Community Museum.
Thursday, April 4: Gerhard Richter Painting
Gerhard Richter is one of the most highly regarded visual artists alive today. The German-based painter, photographer and glass artist, now 81, has had a robust career of producing both photorealistic and abstract works that have defied expectations of style and explored illusionistic space in contemporary art. Gerhard Richter Painting is a 2011 documentary by Corinna Belz that follows the Richter as he prepared for his 2011-12 retrospective. It interweaves scenes of the artist at work, archival footage and interviews with art scholars and the artist's contemporaries. In the film, Belz says of Richter, "I think the challenge of working on camera attracted him to , creating new rules and new situations and then making it look easy and graceful." See a trailer here. Free. 8 p.m. Hirshhorn Museum.
Also, check out our Visitors Guide App. Get the most out of your trip to Washington, D.C. and the National Mall with this selection of custom-built tours, based on your available time and passions. From the editors of Smithsonian magazine, the app is packed with handy navigational tools, maps, museum floor plans and museum information including 'Greatest Hits' for each Smithsonian museum.
For a complete listing of Smithsonian events and exhibitions visit the goSmithsonian Visitors Guide. Additional reporting by Michelle Strange.