Elvis Dies, August 16, 1977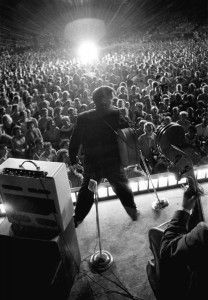 Although flashbulbs were going off constantly during the performance, I knew they wouldn't affect my still shots. Except for one... When I developed the film, I discovered a shot of Elvis with a magnificent spray of light in front of him. Not strong enough to reach the stage, the flash in the audience highlighted the back of about thirty rows of heads as well. That random flash was in perfect sync with my shutter opening... When I saw that photograph, it represented for me this entire experience and was better than anything I had done previously or would do later. Instead of ruining the frame, this unexpected lucky moment gave me "Starburst." —Alfred Wertheimer
Elvis Presley, known widely as the king of rock 'n' roll, passed away at his Memphis home, Graceland, on this day in 1977. He was 42 years old.
In 1956, when he was but half that age, Elvis was on the brink of becoming a hot commodity. Born in Tupelo, Mississippi, in 1935, the young artist had moved to Memphis, Tennessee for high school. Soon after his graduation, Elvis—who drew musical inspiration from the gospel and R&B he heard in church and out on the streets—was signed to Sun Records, who then sold the contract to RCA records for $35,000. RCA was striving to get Elvis the national exposure he needed in order to become a star. Having no usable publicity shots with which to promote their newest acquisition, they hired photojournalist Alfred Wertheimer to photograph him at a recording session.
Wertheimer had never heard of Elvis before, but after his assignment finished, it became clear to him that Elvis was not someone the world would soon forget. The photographer followed Elvis on the road that year, gaining a singular window into the life of the soon-to-be star that reflected his boyish innocence and his drive to succeed in the music business. He captured Elvis' flirtation with a young girl. He captured his recordings of "Hound Dog" and "Don't Be Cruel," both of which hit No. 1 on the charts. It was a special time in the birth of the King, and Wertheimer captured its essence in black-and-white film.
Beginning October 23, a group of 56 of Wertheimer's photographs will be on display at the National Portrait Gallery as part of a traveling exhibition called "Elvis at 21," a collaboration by the Smithsonian Institution Traveling Exhibition Service, the National Portrait Gallery and Washington, D.C.'s Govinda Gallery.
In honor of Elvis, we have compiled an image gallery of photographs that will be featured in the exhibit.