Ella Jenkins Releases Her Latest Kid's Album, "A Life in Song"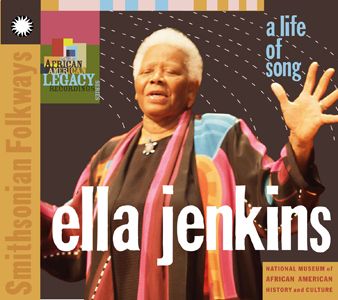 Today, singer and songwriter Ella Jenkins, the "First Lady of Children's Music," releases her 29th Smithsonian Folkways album, A Life in Song. Music is life for Jenkins, who turned 86 last August and has been playing and performing for more than 50 years. Introduced to the blues by her brother and various relatives, Jenkins was born in St. Louis and raised in Chicago. She graduated from San Francisco State University in 1951 and first began writing songs for children while working at the local recreation center and while working as a camp group song leader. In 1956, Jenkins brought a demo to Folkways Records founder Moses Asch, and her first album, Call-And-Response, was released on the label the following year.
But performance is only a part of her story. As a veteran traveler (she's performed on all seven continents) and educator, her message to children is one that speaks to universal love and respect across cultures.
"Music can't be forced on children. The important thing is to expose them to all kinds of music, and see what they are drawn to," Jenkins told the Parents' Choice Foundation. Known for her call-and-response style, Jenkins, with her ukulele and harmonica, masterfully engineers a boisterous audience participation from not only the kids, but any nearby listeners. She has many influences, including vaudeville, gospel, camp songs, and world music.
Jenkins isn't lacking in critical acclaim either, having received Grammy nominations, as well as a Grammy Lifetime Achievement Award.
The octogenarian, who has been entertaining children for two generations is still going strong, and with today's release of the new 21-track A Life in Song, an eclectic mix of blues, folk songs, and traditionals, she's out to teach and sing to yet another. Go here to download the track, "He's Got the Whole World In His Hands," from the Ella Jenkins' new release.