Elizabeth Mitchell Teaches the Kids to Sing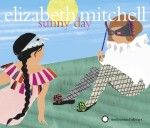 Think of children's music, and costumed freaks might come to mind. Barney. The Wiggles. But songstress Elizabeth Mitchell is unassuming in appearance, and her voice is warm and inviting.
Mitchell's new album, Sunny Day, drops today on the Smithsonian Folkways Recordings label (go to their Web site here for a free MP3 of "Oh, John the Rabbit"), and she's put together a collection of delicately crafted songs arranged with an Americana touch.
It's a grab bag mix of covers from different genres that range from a lovely version of the traditional "Keep on the Sunny Side," to Chuck Berry's "School Days" (with daughter Storey joining on vocals), to a jaunty version of the Japanese nursery rhyme "Under the Big Chestnut Tree." But there's a method to her madness.
"The songs on Sunny Day follow the arc of the day," Mitchell told Folkways Recordings. "The first few are about waking up and embracing a new morning. What follow are nourishing songs, as we share knowledge, and learn together, sing about animals and feelings, learn different languages and contemplate the magical world we live in. By late afternoon, kids need to get their crazies out, so we turn up the tempo with some real rock and roll. The next songs are quieter lullabies."
As usual, Mitchell received the help of some fine musicians, like Levon Helm (of The Band), Jon Langford (Mekons), and Grammy-winner Dan Zanes to make things happen, along with her musical partner and hubby, Daniel Littleton.
Mitchell has been recording children's music since she made an album intended for friends and family back in 1998. And her previous release, You Are My Little Bird, was voted Best Children's album of 2006 by Amazon.com. But she also rocks the grown-ups, too; she and Littleton have been members of the New York indie-pop group Ida since the early 90s. And that was Mitchell and Littleton singing those nicely layered back-up vocals on the bespectacled Lisa Loeb's 1994 chart-topping acousta-smash "Stay (I Missed You)" from the Reality Bites soundtrack.
You can catch Elizabeth Mitchell live October 9 and 10 on the Austin Kiddie Limits Stage at the Austin City Limits Music Festival.