Elephant Trails: Phase I Opens Today at the National Zoo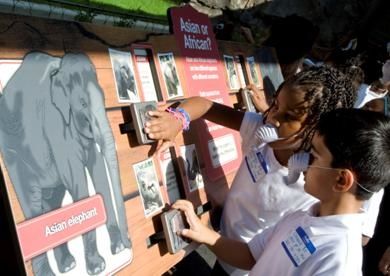 The first phase of a $52 million renovation to the Asian elephant habitat opens its doors today at the National Zoo. Visitors can watch as the elephants explore their brand new outdoor habitat, a state of the art facility that aims to emulate the variety they would have in the wild and educate the public on this increasingly rare species.
"I believe I'm out of the earshot of the pandas right now," said senior curator Brandie Smith at a media preview yesterday. "So I can say that the elephants truly are my favorite animals here at the National Zoo."
Phase I of the project includes four components: a new elephant barn (not open to the public); two new outdoor yards for the elephants to roam and graze; the quarter mile Elephant Exercise Trek, which curators are hoping elephants will use to stay fit, and the Homer and Martha Gudelsky Elephant Outpost, a courtyard with interactive exhibits where the public can view the elephants on ground level. (One of my favorite exhibits at the Outpost was the "Poop Table," where visitors can learn what elephant droppings tell us about the animals' diets.)
The second part of the renovation, slated to open in 2013, will include a third outdoor yard for the elephants and a new indoor elephant house where the public can see the animals up close.
The new habitat is built to be LEED-certified, and includes a green roof, which reduces runoff and heat loss, as well as geothermal heating and cooling that uses the energy at the earth's core to mitigate seasonal temperature changes. Of course, on days like yesterday, the elephants can always choose to take a dip in their pool, which even has hot-tub style jets for them to play in (certainly no jet would be strong enough for deep tissue elephant massage).
The three beneficiaries of the new and improved Elephant Trails are 35-year-old Sri-Lanka born Shanthi, her 8-year-old son, Kandula, and Ambika, the 62-year old India native who was a gift from the children of India to the National Zoo. Although the oldest known Asian elephant lived to age 86, these elephants generally live into their mid fifties. Female elephants do not like to be left alone, and so the Zoo is working to acquire another female to keep Shanthi company for when Ambika is no longer with us. At this time, though, the Zoo is pleased to report that Ambika is in excellent health. "I hope she lives forever!" exclaims zookeeper Marie Galloway.
With this swanky new stomping ground, she just might.