Eco-Artist Kathleen Nowak Tucci on Creating Art From Trash
The craft artist has found a clever way to recycle rubber; see her work at this weekend's Craft2Wear show and Smithsonian benefit sale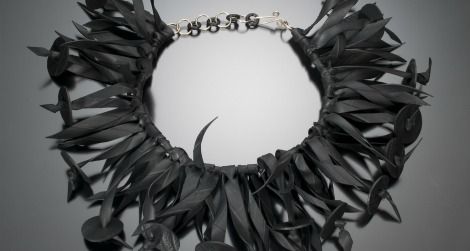 Alabama-based artist Kathleen Nowak Tucci takes rubber bicycle and motorcycle inner tubes and turns them into couture necklaces, bracelets and earrings. This coming weekend, she will be among 40 artists from around the country in Washington, D.C., to show, and sell, their clothes, jewelry and accessories at Craft2Wear, an event organized by the Smithsonian Women's Committee. I recently interviewed the eco-artist by email:
How did you first get involved with making jewelry from recycled rubber?
I have been a gallery artist for over 25 years and have worked in many mediums including ceramics, silversmithing and painting in watercolor and acrylics. I had been experimenting using industrial rubber products such as o-rings to make jewelry. Then I got an idea that needed thin rubber. I ended up with two boxes of bicycle inner tubes, but my original idea did not work. So after sitting in my studio for several months, I started to just play with the rubber inner tubes and realized that it was a really interesting material for jewelry. It is lightweight, flexible and easy to manipulate.
Where do you get the rubber?
I get the rubber from bicycle shops in Pensacola, Florida, and Mobile, Alabama. The motorcycle inner tubes come from a Harley-Davidson shop in Pensacola. At first, they would forget and throw them away. Then my mother started to make cookies for the bike shops, and they saved them all for me. They are so happy to see me with the cookies that they even carry the tubes out to the car for me. I think that they are also happy to not have to discard them and to know that they will be recycled.
In what ways do you find rubber to be an interesting medium to work in?
It is readily available, flexible, malleable and easy to cut. The inner tubes go through a washing process that removes all the "old inner tube smell."  Most people have a hard time guessing that my jewelry is made of recycled inner tubes. I purposely have stayed with just the black of the tubes because I love design and it is hard to get away with bad design using just black. After design, construction is really important to me. I spend a lot of time engineering my work to be comfortable and durable. I have found that the qualities of the rubber determine many of my designs and not what is trendy or in fashion at the moment.
You live in Atmore, Alabama, a small town that was affected by the Gulf Oil Spill. How has the spill affected your vision as an artist?
The Gulf Oil Spill was such a tragedy for the wildlife, ecosystem and economy of the Gulf Coast area. This area has some of the most beautiful white sand beaches in the world. Seeing them covered with oil was heartbreaking. Much of our economy in this area, from tourism to seafood, depends on the Gulf. We all realize how fragile this ecosystem is and how close we came to losing it.
Our small town was already affected by the recession when the Gulf Oil Spill occurred. My sister's coffee shop, Annie's Community Cup, was on Main Street, which is a shortcut to the beaches in Florida for anyone driving from the Midwest. The coffee shop depended on tourist stopping on the way to the beach. When all tourism stopped because of the oil spill, she had no choice but to close.
The coffee shop was in a beautiful historic building with wood floors and brick walls. I decided to rent the building from her to be able to store the inner tubes and to have a larger space to work. My studio at home had begun to look like a tire blowout. We now use the "Rubber Factory" to produce and distribute the jewelry. My jewelry was featured on the August 2010 cover of the controversial "Water and Oil Issue" of Vogue Italia.
I have come to realize how much is thrown away and ends up in landfills and can actually be recycled. Though it was not my first intention, I am proud to call myself an eco-artist.
Craft2Wear will be held this Saturday and Sunday, from 10 a.m. to 5 p.m., at the National Building Museum. Admission is $5.