Earth vs. the Flying Saucers @ the Hirshhorn
It seems as though the film might have been exhibiting camp tendencies back in 1956, too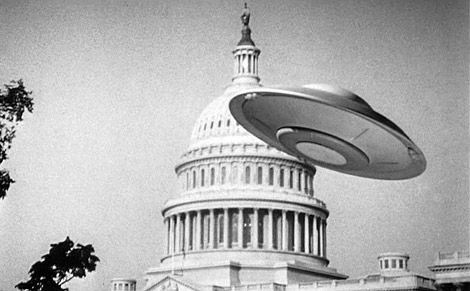 You want camp? You got it! But don't delay, kids. The final film of the Hirshhorn's "Summer Camp: Sauceriferous" film series, Earth vs. the Flying Saucers, the 1956 "classic," will be showing tomorrow night at the Ring Auditorium at 7:00. Plus they'll be giving out the last of the glow-in-the-dark Sauceriferous Frisbees!!! And yes, I did just use three exclamation points!
So what's this movie about? Aliens, baby. And misunderstanding. Kind of like an episode of Three's Company, minus Jack Tripper, but with laser beams. Basically, there's an initial alien saucer visitation that goes awry–a "meet-cute" of sorts that ends up in death rays and destruction. Then the aliens come back with a bunch of their friends and invade, attacking five of the world's largest cities. And it's up to Hugh Marlowe's character to stop them.
And how did the world feel about the Earth vs. the Flying Saucers back when it was released? It seems as though the film might have been exhibiting camp tendencies back in 1956, too. "If I have to see many more of these idiotic items," panned the Chicago Tribune movie critic upon the film's release, "I'm going to be in the market for a handy portable disintegrator myself." Ahhhh…Camp at first sight.