Drag Yourself to Hirshhorn After Hours on July 23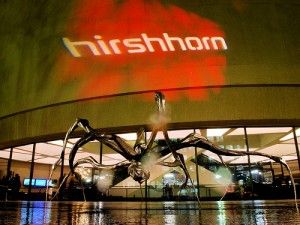 This Friday, get prepared to get down with some drag queens as Hirshhorn After Hours springs into action at 8:00 p.m. The 21+ event will be a festive extravaganza with DJs Matt Bailer (MIXTAPE) and Bil Todd (RAW) beating out the best dance music. In addition to the dance party, Summer Camp, the "tasteless and shameless drag superstar" will be entertaining the crowd with high pumping energy alongside fellow drag performers Karl Marks, Brandon Joseph Neukam, and Sunrize Highway.
The night will also introduce the latest fun and zany digital short from the team at CRACK, a non-profit theater collaborative that highlights some of the best (or worst, depending on how you define camp) that DC's LGBT community has to offer. The short film will feature the talents of Chris Farris, Karl Jones, and, once again, Summer Camp, keeping the tone of the evening light and unpredictable. If that isn't enough, you can still browse the many exhibitions of the Hirshhorn, such as the Yves Klein: With the Void, Full Powers, Colorforms, or Black Box: Chris Chong Chan Fui until 10:00 p.m..
If you want to be a part of this spectacular event, tickets are on sale now! Purchase them online, call (202) 633- 4629 (or toll-free at 868 - 7774), or at the Smithsonian IMAX theaters at the National Museum of Air and Space or Natural History Musem. Get them as soon as you can, since tickets are not available at the door. Tickets are $18, but are free with a Hirshhorn museum membership. Please bring the receipt or e-mail confirmation during when you arrive for Hirshhorn After Hours. For more information, visit here.