DJ Rekha Will Be Performing at Asia After Dark, July 15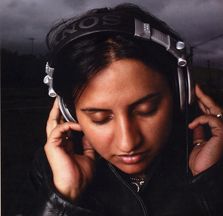 Asia After Dark will be heating things up again at the Freer and Sackler Galleries on Thursday, July 15th. It's Bhangra Night, kids, and DJ Rekha will be rocking the party that rocks the Bhangra body, spinning hip-hop-infused Indian dance rhythms designed to get your booty on the dance floor.
But what's Bhangra, you ask? It's a type of folk music and dance that originates in the Punjab region of India, with the modernized version characterized by a strong, pulsing beat and itchy, almost hypnotic, rhythms. You might have even gotten a taste of it if you heard American rapper/producer Jay-Z's 2003 remix of Bhangra star Panjabi MC's hit "Beware of the Boys."
There will be a Bhangra dance troupe performing, along with a featured art exhibition. Indian attire and style is encouraged, so I'll be the gora (the Caucasian guy) rocking the blue kurta. The event isn't happening until July 15th, but tickets have already gone on sale. They usually sell out quick, so snap those suckers up, kids.
I interviewed DJ Rekha, who was nominated in 2003 as "New York's Best DJ" by New York Magazine and named one of the most influential South Asians by Newsweek in 2004, via email below.
What makes hip-hop and Bhangra mesh together so well?
The styles have a natural affinity for each other. The Bhangra I play is produced the same way hip-hop tracks are—with kick drums, basslines, etc. They have the same four-on-the-floor quality.
What does it mean to be bringing Bhangra to the Smithsonian?
It's very exciting to be involved in bringing this style of music to such an American institution. To me the Smithsonian represents a preservation of American culture, and the fact that Bhangra is going to be played there is acknowledgment that there is no denying that in 2010, Bhangra is also a part of American culture.
From the pictures of you, it looks like you've got some old-school turntables. Do you do any scratching?
I do a little bit of scratching, but I am not a turntablist. I love using turntables when I DJ, though I use them in conjunction with a laptop.
Some musicians or DJs prefer to be behind their instrument or table, as opposed to being out on the dance floor. Do you like to be the one creating the music or the one moving to it?
I live to be as close to the audience as possible. I feed off the energy of the crowd, provided they respect my DJ space.
How do your dance moves rate?
I can't really say, but I love to dance. Never trust a DJ who doesn't dance.
Currently, there's not many female MCs out there in the game—whom do you look toward in the music world today for inspiration?
I am inspired by too many people to name all of them.  But I love A.R. Rahman, M.I.A., Jay-Z, Santogold, The Roots. . .
Growing up in Queens and Long Island, who were your first loves on the radio?
Well, I was fortunate to have grown up in the time of the beginnings of hip-hop and when dance music/disco was played on the radio. There was a station in the late 1980s and early 1990s that played what was then called alternate/new wave. It's where I first heard U2, New Order, Nine Inch Nails, Happy Mondays.
Got any future projects coming up?
Well, I have been teaching at NYU's Clive Davis Department of Recorded Music (ReMu), so I hope to continue that. There are a few movies/projects I am in talks with. I am working with Punch Records to bring an exhibit called "Soho Road to the Punjab" to the States. Soho Road is the strip in Birmingham, UK that has all the South Asian shops, and Birmingham is where a lot of the Bhangra I spin is produced. Oh yeah, I'll be dropping a new Brazilian/Bollywood dance single, so stay tuned!
Bhangra Night with DJ Rekha takes place Thursday, July 15, 6:30-10:30, at the Freer Gallery of Art. Tickets are on sale now.