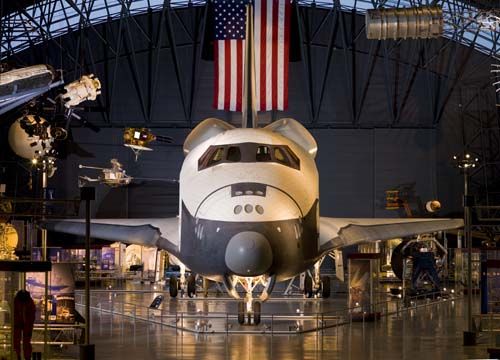 NASA's space shuttle Discovery is scheduled to launch today at 3:29 pm Friday at 3:04 PM on November 30. This will be the shuttle's final flight, before being retired along with the rest of the NASA shuttle program later next year. Discovery is the first of NASA's three shuttles to make its final journey. First sent into space in 1984, Discovery has completed 5,000 orbits of the earth, spent more than 300 days in space and traveled a whopping 150 million miles. The Smithsonian and other museums are waiting to hear from NASA on where Discovery and the other orbiters will go after completing the final missions.
NASA launched its first shuttle Columbia into space in 1981, and since then the shuttle program has forged the way for United States space exploration. I corresponded with Air and Space curator Valerie Neal to learn more about Discovery, the shuttle program and the future of space exploration.
Over the course of the past few decades, there have been so many firsts associated with NASA's shuttle program, and Discovery in particular: first female space shuttle pilot, oldest person to orbit space, first African American man to complete a spacewalk. . .  Is there one particular moment in Discovery's history that stands out to you as a moment you'll never forget?
There are two such moments that are especially memorable, and each occurred in the aftermath of a crisis. Discovery flew the return-to-flight mission (STS-26 in 1988) more than two years after the Challenger tragedy, and everyone held their breaths for a safe and successful launch. Discovery also was the return-to-flight orbiter after the Columbia tragedy (STS-114 in 2005), in an environment of suspense about both a safe launch and a safe return. Of course, Discovery was the vehicle; the real success of those missions was achieved by the onboard crews and the many people who prepared Discovery for flight.
What one moment in the course of the entire space shuttle program stands out as a turning point?
It is hard to choose a single such moment from the many, but one of them also involves Discovery. The first Shuttle docking with the International Space Station in 1999 (STS-96). At that point, the shuttle met the ultimate goal for which it had been envisioned some 30 years earlier: to provide transportation service to and from a space station. The United States now had the means—a shuttle fleet and a space station—to stay in space, not just visit there, to continually live and work in space, make a home and workplace there, and live off the planet in a more permanent way. US human spaceflight then became focused on the International Space Station; only four of the almost 40 missions that followed had a different purpose.
If, in fact, the Smithsonian does get the Discovery, it will replace the prototype Enterprise, which was used for glide and landing tests in the late 1970s (on view at the Udvar-Hazy Center in Chantilly, Virginia). Why would having the real thing be a more exciting experience for museum-goers?
​Enterprise is also a "real thing," and we appreciate its unique history, but Enterprise made its primary contributions before the shuttles began to fly in space, and it spent most of the shuttle era in retirement. A flown-in-space orbiter represents the operational history of the shuttle era—the various kinds of missions from satellite deliveries to laboratory research to space station construction, the diverse astronaut corps, and the challenges of doing very difficult and ambitious work in space. We can tell many more stories around a spaceflight orbiter and people can learn much more about human spaceflight in the shuttle era.
In 50 or 100 years, what do you think people will say looking back on the NASA Space Transportation System? Will space exploration for the United States dwindle as a result of retiring the Shuttle program?
I think that the shuttle era will be seen as a time of practical spaceflight, a period of trying to make spaceflight routine enough that many kinds of beneficial activities could occur in Earth orbit. By flying often, having ample room for large payloads and many kinds of experiments, and usually carrying five or seven crew members, the shuttle expanded the range of human activity in space.  The shuttle opened the way into space for women, persons of color, scientists, engineers and educators to join the male pilots who had formed the astronaut corps. The program also made possible the construction and operation of a very large, very capable space station, which originally was planned to become a stepping stone to further exploration of the Moon and human exploration of Mars.
Whether that kind of space exploration occurs will be decided by American citizens and our political representatives and leaders. Whether further exploration will be carried out by increasingly capable robotic explorers, or by some partnership of humans and robots, or by some advanced technologies not yet developed, remains to be seen. I do think that space exploration will continue as long as we have curiosity and the desire to understand, but the style of exploration may be quite different than our current practices.
This post has been updated to reflect the continuing delays of the shuttle launch.