Discovery Touches Down at Dulles International Airport
The shuttle has landed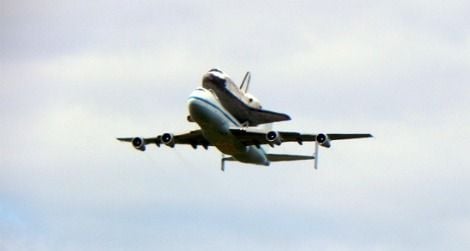 Did you see it? This morning, space shuttle Discovery made its farewell loop around Washington, D.C. before its descent into Dulles International Airport. Half an hour ahead of schedule, the shuttle made extra passes just a few hundred feet over the district to the delight of the onlookers camped out on the Mall and other spots around the city. At Dulles, two cranes awaited to de-mate Discovery from her carrier and tow her to the Udvar-Hazy Center. After 39 flights to space, including the historic launch of the Hubble Space Telescope, the battered-looking shuttle is officially retired. On Thursday, Discovery will join the Air and Space Museum's collection, which already contains Lewis and Clark's compass and the Wright Flyer. As Discovery's retirement symbolizes the end of NASA's space shuttle program, it was a day of "mixed emotions," as General Jack Dailey, director of the Air and Space Museum, called it. But the excited crowds drawn outside by the shuttle's last flight bodes well for Discovery's future as an iconic museum artifact.
Smithsonian Secretary Wayne G. Clough spoke briefly of today's historical moment after Discovery and its 747 carrier landed. "The first secretary of the Smithsonian was there in 1860 or so when they launched the first balloon for the U.S. Air Force," he said. "I'm glad to be here at a time when we're launching a new career for this great vehicle. We're going to take good care of it."
The landing was only the beginning—the official welcome ceremony on Thursday, April 19 kicks off the installation of the shuttle, and we'll be posting on more spacecraft antics this weekend. Tell us where you were when you saw the shuttle in the comments! If you missed out, check out photos and videos from all over town at #SpottheShuttle on Twitter or on the Air and Space Flickr.