Design Announced for National Museum of African American History and Culture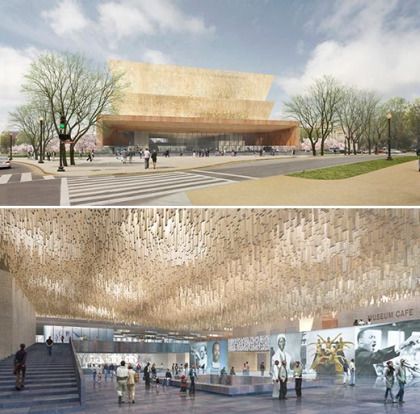 The design concept of Foster + Partners/URS Group, Inc. may have claimed favorite in our readers' poll, but the stately, bronze structure submitted by architects Freelon Adjaye Bond/SmithGroup won the hearts of the official jury, charged with making the final decision about what the National Museum of African American History and Culture will look like.
At the announcement this morning, Lonnie Bunch, director of the museum and chair of the jury, said that in the three years leading up to this decision, he's been asked many times how he envisioned the museum building, and the words "spiritual" and "resilient" kept coming up. "When I saw this it made manifest some of those words I've been saying for years," said Bunch, of the winning design.
Lead designer David Adjaye described the structure's bronze tiers as a celebratory corona, or crown, and the basic philosophy of the building to be to enter at the center and spiral around, arriving at a rooftop vantage point.
Bunch praised the architects' ability to create something so distinctive and yet so complementary to the other monuments and museums on the Mall, and was also quick to acknowledge the other five finalists. "They all brought their A games," he said. Deciding on a preliminary design to work from and a team to make it happen, says Bunch, is "like making the sweet 16." But they still have a long way to go. The real nitty-gritty of the design process begins now, with the collaboration between the museum and Smithsonian Institution staff and the architects. Construction of the museum will begin in 2012, with it scheduled to open in 2015.