Danilo Pérez, Creator of Musical Guardians of Peace
The Panamanian performer catches up with Joann Stevens before his Nov. 30 concert at the Kennedy Center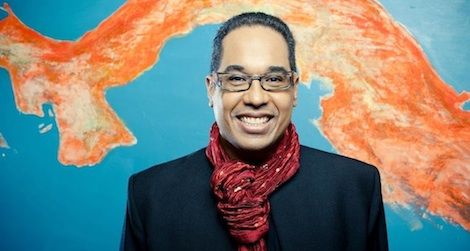 Grammy award-winning jazz pianist and composer Danilo Pérez is a global citizen of music, equally inspired by the rhythms of world cultures and ecologies as with the traditional and contemporary sounds of his native Panama. It's all music to his ears, and Pérez, who is a 2009 recipient of the Smithsonian Latino Center's Legacy Award, is legendary for creating artistic mashups that connect continents and cultures, as well as history.
Mentored by jazz luminaries such as Dizzy Gillespie and Wayne Shorter, in 1989 Pérez was the youngest member of the Dizzy Gillespie United Nations Orchestra, a portent of things to come. Other recognitions include: Founder of the Panama Jazz Festival and the Danilo Pérez Foundation; Artistic Director of the Mellon Jazz Up Close series at the Kimmel Center in Philadelphia, and the Berklee Global Jazz Institute; tours or recordings with the Wynton Marsalis Band, Wayne Shorter Quartet, Jack DeJohnette and Tito Puente, among others; featured performer at the this year's first International Jazz Day concert at the United Nations on April 30; and finally, UNICEF Goodwill Ambassador and Cultural Ambassador of Panama.
Recently we caught up with Pérez by telephone to discuss his latest recognition as UNESCO Artist of Peace, to promote UNESCO's message and programs.
Congratulations! How did the Artist of Peace recognition develop?
It was very important for me to accept the invitation to perform at the UN concert for the first International Jazz Day. I made wonderful connections through Herbie Hancock. Mika Shino (Executive Director of UNESCO's International Jazz Day) is our advisor working with Herbie Hancock, Dee Dee Bridgewarter and myself. She is very practiced in this world (of the UN). They saw me in New York and then looked at all the things I've been doing. This honor was even supported by the President of Panama. My relationship with Wayne Shorter also had a lot to do with this. He introduced me to of these people and helped create recognition for my work in Panama. They saw that I was working on a scale of social activism to change peoples' lives. When I found out the news, I saw this as another leg in the journey of my life. Four years ago I got the Legacy Award at the Smithsonian. That same year I was awarded by Spain. It keeps going, like a journey.
How will you represent UNESCO in this role?
The two big things I will represent is UNESCO as the guardian of education, science, and culture, and as a peace builder. One of the biggest commitments of my life is to education and how it can bridge conflict.
Will your global jazz institute have a role in the work?
I created the Berklee Global Jazz Institute to foster social change through music and interconnected learning. We use different disciplines such as science, mathematics and painting to create a musician who is more complete. We also teach creative music and ecology by taking kids into the jungle to interact with the sounds and force of nature.
We won a grant to take this learning to Africa next year through the U.S. State Department. We're going to Benin and to Burkina Faso. Possibly a third country. My dream is to create a curriculum that can be expanded, developed in Panama and taken to all of Latin America. Berklee is the center of our learning laboratory. We also have exchanges with other countries. The main goal of the Institute is to create the Guardians of the Creative Process, to develop a new generation of musicians to become future ministers and ambassadors of culture.
What can jazz artists teach the world about peace?
Having a gift means having a responsibility. Social and cultural interchanges can be advanced through music.
How has life prepared you for this leadership role?
Four things in my life prepared me. The first was my father, an educator who taught me interconnected learning, which he practiced on me. In 1967, he wrote a thesis about music as a tool to teach other subjects. As a kid I didn't like mathematics. Through music I became an electronics major.
The second was my relationship with Dizzy Gillespie. He taught me the value of thinking about music globally—to use music as a tool to bridge differences and bring people together. I played in his United Nations band.
Another part that is very moving for me was the U.S. invasion of Panama on December 20 (1989). I was having my first concert in Panama, since leaving, on December 22. I decided to do the concert anyway. I did the concert while the invasion was going on. I said, 'if I die, I want to die playing piano.' But we brought people together from the left and the right wing. Jazz is the best tool of diplomacy.
Lastly, is my relationship with Wayne Shorter. He is a genius who helped me connect my life with music. He told me, 'play what you wish the world to be like.' Think of the things music can be for. What is the purpose of music? The humanity?
You have two special concerts on the horizon, one at the Kennedy Center Nov. 30, the other at Carnegie Hall Dec. 8
I'm bringing my trio to the Kennedy Center, Adam Cruz and Ben Street. We've been together more than 20 years. We have a strong connection. We're going to premier some of the new music for the future recording. My music is hopeful and mysterious. Be prepared for something interactive.
December 8 they're premiering my Octet, a piece I wrote for the 500th anniversary of the discovery of the Pacific Ocean by the Spaniards. Of course the Indians actually helped the Spaniards. The piece is about the Pacific Ocean talking to me in a dream, telling me the story of the ocean as a holder of the secrets of the ages. It's called Tales of the Sea and experiments with traditional folkloric music, jazz and classical music. I call it a perspective to unite the world.
Joann Stevens is program manager of Jazz Appreciation Month (JAM), an initiative to advance appreciation and recognition of jazz as America's original music, a global cultural treasure. JAM is celebrated in every state in the U.S. and the District of Columbia and some 40 countries every April.