Damage Control: How Artists Destroy to Create Art
The Hirshhorn's new exhibition explores the theme of destruction in contemporary art since 1950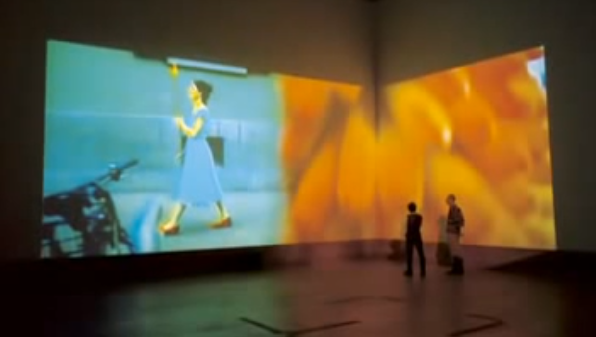 A woman strolls down a city street, wearing a flowing turquoise dress and red shoes straight out of Oz. She's happy, carefree and carrying a torch lily—which she proceeds to swing, with glee and the greatest of ease, into the window of a parked car.
This 1997 video installation, Ever Is Over All, by Swiss artist Pipilotti Rist, encapsulates the beauty, irony and transgression at the heart of "Damage Control: Art and Destruction Since 1950," now on view at the Hirshhorn Museum. The exhibition traces the theme of destruction in contemporary art from the early atomic age to the present. The show begins, aptly enough, with a bang: Harold Edgerton's footage of nuclear detonations.
In the early 1950s, the MIT engineer filmed a series of atomic bomb tests for the U.S. government, projecting an indelible vision of humanity's destruction. Edgerton's 12-minute silent film depicts fireballs that swell into suns, mushroom clouds that climb skyward, desert sands that quiver and settle back into place like ocean tides. "They're a spectacle that you're drawn towards," says Hirshhorn interim director Kerry Brougher, who co-curated "Damage Control" with UCLA's Russell Ferguson. "That's the dual nature of the show—destruction as something horrendous but also something beautiful."
Brougher sees the invention of the atomic bomb—and the looming prospect of global holocaust—as a turning point in art history, compelling artists to think differently about destruction. "In the face of the atomic bomb, what good did it do to make a painting?" he says. "Artists began to use destruction to fight fire with fire." One such artist was Raphael Ortiz, whose Piano Destruction Concert—or what's left of it—lies beside the Edgerton film in the entrance to the exhibition. Ortiz destroyed a grand piano on the opening night of "Damage Control" in October 2013, smashing the instrument's keys and innards with a hammer in a ritualistic piece of performance art.
The work is a reenactment of Ortiz's historic piano deconstruction at the 1966 Destruction in Art Symposium, which Brougher cites as a major inspiration for "Damage Control." Initiated by Gustav Metzger, the symposium convened artists from around the world to announce a new, militant strain of destructive art that responded to political and social realities. While Ortiz wrecked his piano, Metzger painted on nylon with hydrochloric acid, creating "auto-destructive art,"and Yoko Ono imperiled her own body in Cut Piece, inviting the audience to slice at her with scissors.
"It was shocking," Brougher says of the symposium. "People didn't know how to take it." But one thing was certain: the new destruction was here to stay.
Increasingly, artists inflicted destruction on themselves and their own artwork.In 1970, John Baldessari burned all of his earlier paintings in a formal reinvention called Cremation Project. (He baked some of the ashes of his work into cookies.) In his 2001 performance piece, Break Down, Michael Landy set up a disassembly line for his personal possessions, hiring an 11-person crew to inventory and destroy every last thing he owned.
Turner Prize-winning artist Steve McQueen—now best known for his feature films, Hunger, Shame, and 12 Years a Slave—put himself in the line of fire in Deadpan (1997), a restaging of Buster Keaton's falling house gag from Steamboat Bill Jr. McQueen does more than remake the stunt; his presence as a black man transforms the work into a commentary on race relations and the precariousness of the black experience. "You need to be standing exactly right so you don't get hit," Brougher observes.
Some artists took aim at the work of their predecessors. In 1953, Robert Rauschenberg asked Willem de Kooning for a drawing of his to erase. De Kooning humored the younger artist, recognizing in the gesture an artistic changing of the guard, from abstract expressionism to pop art. He didn't make it easy for Rauschenberg, however, giving him an extremely complex drawing that took weeks to erase. The result is a ghostly palimpsest that evokes the end of an era.
In a similar act of creative vandalism, Britart's enfants terribles Jake and Dinos Chapman defaced a set of Goya's 1810-1820 Disasters of War etchings—which depict the horrors of Spain's war of independence from France—to create their Insult to Injury (2003), replacing the heads of victims with the grotesque heads of clowns and puppies.
But perhaps the most (in)famous example of desecration in "Damage Control" is Ai Weiwei's Dropping a Han Dynasty Urn, a triptych depicting the Chinese artist doing just that. When is destruction creative versus nihilistic? Brougher says it's a fine line, but it comes down to "the ideas behind it as you do it."Ai, for instance, broke the urn to critique societal values—how we decide what a work of art is "worth" and what that dollar value really means.
The final pieces in "Damage Control" touch on present fears of terrorism rather than cold war paranoia. Big Bang, by Israeli artist Ori Gersht, looks like a still life but is actually a film, divulging its eponymous surprise in slow motion, while Nature morte aux grenades, by Palestinian-born artist Mona Hatoum, disables a cache of grenades by fashioning them from candy-colored glass—but arranges them on a steel gurney that restores their lethal potential. Brougher sees the theme of destruction as a "continuum" in art history, with the world's proximate threats evolving from hydrogen bombs to suicide bombs and natural disasters. "There was no good moment to stop [the exhibition]," he says. "The hard part was limiting the number of artists in the show. There's so much destruction."
"Damage Control: Art and Destruction Since 1950" is on view through May 26, 2014 and will travel to the Mudam in Luxembourg, July 12- Oct. 12, 2014 and to the Kunsthaus Graz, mid-November 2014 to mid-March 2015.