Dama Gazelle Born at the National Zoo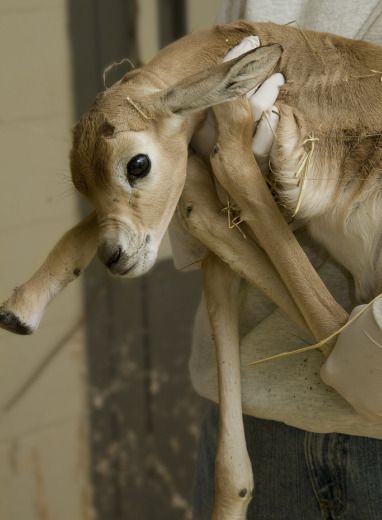 The Zoo added another adorable critter to its roster: a baby dama gazelle. The calf was born Friday, Oct. 2 and weighed 11 pounds. Her parents are 2-year-old female Adara and 2-year-old male Rajih.
The healthy baby is currently off-display and acclimating herself to the new world with her mother and 1-year-old sister, Fahima. The proud father, however, can be seen at the Zoo with the scimitar-horned oryx. Zoo staffers have seen the calf nurse, groom and run around with her mom and sister. These are all signs of good health, they say.
Although this darling dame is tiny, the dama gazelle is actually the largest of the gazelles and can weigh up to 190 pounds and measure up to 42 inches at the shoulder. In their native habitat, gazelles feast on desert shrubs and acacia; and, during times of drought, rough desert grasses.
The dama gazelle is a critically endangered species according to the International Union for Conservation of Nature and Natural Resources Red List of Threatened Species. Experts estimate that fewer than 500 dama gazelles currently live in the wild, and those that do are threatened by hunting and poaching. The gazelle's range, which used to encompass most of the Saharan region of Africa, has shrunk to contain only a few spots in Mali, Niger and Chad.
But, conservation efforts are helping. The Species Survival, a program started by the Association of Zoos and Aquariums, manages 120 dama gazelles in the United States.
To see more pictures of the baby dama gazelle, visit the National Zoo's Flickr album.