"Cyprus: Crossroads of Civilizations" Opens at Natural History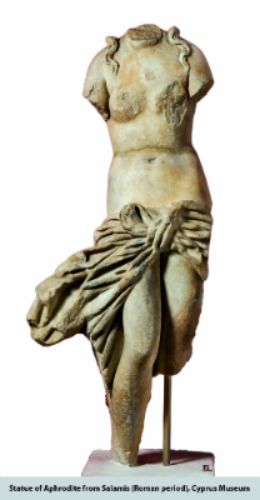 According to legend, Aphrodite, the Greek goddess of love and fertility, was born in Cyprus, the third largest island in the Mediterranean Sea. Walk through "Cyprus: Crossroads of Civilizations," a new exhibition opening today at the National Museum of Natural History, and you can see how the worship of the deity has been deeply ingrained in the country's history. Flat, plank-shaped ceramic figurines dating back to 2000 B.C. call to mind the "Mother Goddess," as does the marble statue of Aphrodite that holds court near the rear of the gallery.
But perhaps the most interesting revelation when comparing the representations of the goddess across time is the extent to which international influences play out in Cypriot art. For example, the plank figures, though unique to Cyprus, may be a result of mixing the religious beliefs of incoming settlers from Anatolia (modern-day Turkey) and the island's original inhabitants. Likewise, the marble statue of Aphrodite, excavated at Salamis, Cyprus, and dating from sometime after Cyprus was annexed by the Roman Empire in 58 B.C., has a clearly Romanesque style.
The exhibition, guest curated by former director of the Cyprus Department of Antiquities Sophocles Hadjisavvas, emphasizes how Cyprus's location, at the crossroads of Europe, Asia and Africa, contributed to its melting pot culture. It also argues that out of the mixing of cultural influences came a uniquely Cypriot style.
The unveiling of the exhibition comes at the 50th anniversary of Cyprus's independence from Great Britain. But, organized like a timeline, it spans 11,000 years of the island's history. Through artifacts—vases, bowls, sculptures, gold jewelry and paintings, many of which have never been shown outside of Cyprus—the exhibition documents what life was like from the time Cyprus was first settled to the beginning of Ottoman rule in 1571.
"It's an experience," says Hadjisavvas. "Visitors can get in touch with the people of Cyprus through the antiquities. They can visit the island of Cyprus through this exhibition."