Cute Baby Animal Watch: Black Howler Monkey Edition
Breaking news: Cute baby monkey born at the zoo!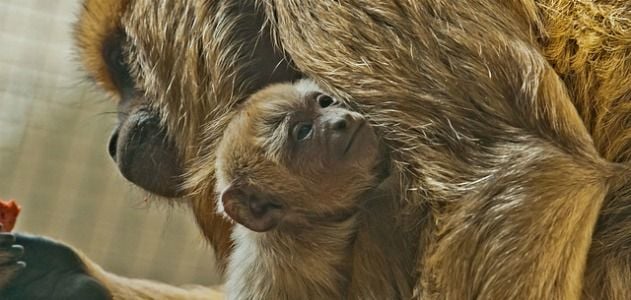 Spring has sprung, which means it's adorable baby animal season at the National Zoo. Head over to the Small Mammals House to congratulate first-time parents Chula and Pele on their new black howler monkey baby, born March 22nd.
"This is looking wonderful," enthuses Bob King, curator of the Small Mammals House. "Both parents are being great. The mom's watching the baby carefully, and the dad is interested but not too assertive."
The baby (whose gender has yet to be determined) is the first surviving black howler monkey in the Zoo's history of exhibiting the species. The black howler, which is not listed as endangered or threatened, is the largest monkey in the Central and South American rainforests. The species boasts the title of loudest animal in the New World, thanks to their super-size vocal chords that can penetrate up to three miles of dense forest with a single rumbling growl. King says the Zoo hasn't attempted to breed howler monkeys for a few decades.
"Of all the primates, they have one of the higher mortality rates for newborns. And these are first time parents, which increases the risk," King says. "One of the reasons the mortality rate is high is because they have a well-known history of infanticide, regularly seen from the males. It tends to happen with a non-related baby, but not always. So one of the things we worry about is if the male will interpret the baby correctly."
So far, the father, Pele seems intrigued but not upset by his offspring. "Today we saw the baby reach its hand out over the other side of the mom's chest when she wasn't looking, and the male was just playing with its fingers," King reports.
Until the baby leaves the mom's chest and starts moving around independently, the father usually stays hands-off. But, King suspects, it might not be long until Pele has to start pitching in.
"The little guy is pretty anxious to start exploring," he says. "I suspect within the next few weeks he'll be moving around."
You can welcome the newest primate at the Small Mammals House, who is now on view with his parents. In the meantime, the many squeal-worthy photos of mom and baby below and on the Zoo's Flickr serve as excellent procrastination material.
Want more? See adorable photos of the National Zoo's rare maned wolf pups born earlier this year.