Curating Pandemic at the American History Museum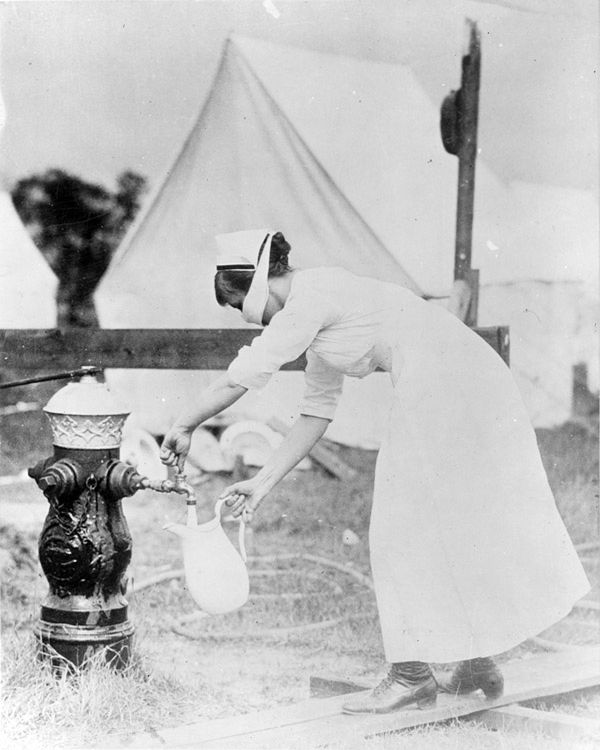 Every illness has a unique narrative. From polio and tuberculosis to SARS and now swine flu, the Smithsonian collects artifacts and pieces of history from past epidemics to show future generations the impact of specific illnesses and how they shaped medicine and American life.
"We look for things from the point of view of the patients, family and community," says Katherine Ott, curator of medicine and science at the National Museum of American History. Objects in the collection include public health pamphlets, photographs, medications and diagnostic equipment. A small red ribbon, expertly preserved near a piece of the AIDS quilt, tells the story of HIV in American history.
The Smithsonian also has handbills distributed during the 2003 SARS outbreak, a sample of the influenza drug Tamiflu, as well as an electron microscope, to commemorate the first time a virus could be seen by human eyes.
At the moment, it's still too early for Ott to begin collecting materials related to swine flu, officially called Influenza A (H1N1) . (Plus, the anti-flu masks that are all the rage don't last long enough to preserve.) Her reason why also comes from her perspective as a medical historian. This isn't the pandemic like those of the past. She shared some insight on how the current pandemic relates to past ones.
Italians named the influenza virus in 1743, during an outbreak in Europe. They blamed the mass mortality and sickness on an unfavorable "influence of heavenly bodies." Other big influenza outbreaks occurred in 1890 and then in 1918, when the Spanish flu pandemic caused anywhere from 50 to 100 million deaths.
According to reports, the swine flu strain is a unique but distant descendant of the 1918 strain. Both are more pathogenic to young adults, possibly because having a strong immune system increases the risk for a cytokine storm-when the body overreacts to an invading microbe, causing the illness.
Because of modern public health measures, Ott says the recurrence of a pandemic like the one of 1918 is not likely today. Advances including better nutrition, antiviral medications and vaccines are preventing the rapid spread of the illness. Plus there's the ability of health officials to track the disease minute-to-minute. So for now, Ott is taking a wait and see approach to collecting artifacts of today's pandemic.