C.S.I. Smithsonian on Forensic Fridays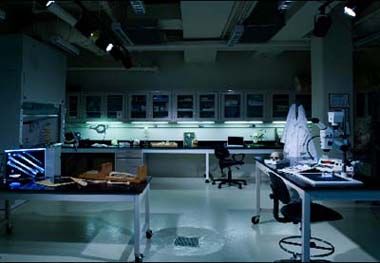 The lives of forensic anthropologists Doug Owsley and Kari Bruwelheide have all the ingredients for a great television show:
1. There's murder: The team found the skeleton of a 17th-century Chesapeake indentured servant crammed in his employer's cellar.
2. There's mystery: Piecing together clues, like linen shroud fibers and copper staining, Owsley and Bruwelheide identified a colonial Maryland woman buried in a lead coffin.
3. There's drama: The FBI called on Owsley to identify the remains of the women and children who died in the 1993 Waco Massacre.
4. And there's romance: Both Owsley and Bruwelheide love their jobs.
Until a gifted producer brings their story to the networks, visitors to the National Museum of Natural History's "Written in Bone" exhibition can watch the curators live, starting today.
A new monthly event, called "Forensic Fridays," will allow visitors to join Owsley and Bruwelheide as they study new cases from America's past. Visitors are encouraged to ask the celebrity anthropologists about their work, while learning how skeletons are aged, sexed and identified.
"We're going to give a behind-the-scenes look at the kinds of data that and I collect from the skeletons," Owsley says. "We're going conduct our examinations as if the visitors were in our laboratory."
At the moment, three "Forensic Fridays" are planned: Today (April 24), May 22 and June 26. All take place from 1 p.m. to 5 p.m., though you can drop by at any point during that time.
Today's case is part of a current tomb restoration project at the Congressional cemetery. As grounds crews stabilize the 19th-century tombs, Owsley and Bruwelheide are working with the families of the deceased to identify who are buried in the vaults. Since many of the bodies lack death records or obituaries, the goal is to match the remains with the family names.
If that's not must-see reality—then you're watching too much T.V.
The Forensic Anthropology Lab is open to the public, Monday, Tuesday, Thursday and Friday, 1 to 5 p.m. and Saturday and Sunday, 11 a.m. to 4 p.m. No reservations are required for public hours and the activities are self-directed.